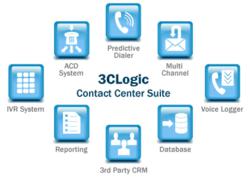 We decided to broaden and extend the program to include a wider spectrum of hosted and premise based systems. With our cloud based contact center service, we can really cut the annual maintenance bill that customers pay for premise based systems in half
Rockville, MD (PRWEB) September 29, 2011
3CLogic, the leader in cloud based contact centers, announced today that they will be extending their Cloud Switch program until the end of December due to the enthusiastic response from their initial offer. The Cloud Switch program has been extended and broadened for customers to switch from the platform they are currently using over to 3CLogic's Call Center Service deployed on Amazon Web Services (AWS). This three-point incentives promotion originally scheduled to end in September, 2011, will now be running through the remainder of the year, ending on December 30th, 2011. While the initial program was directed at Five9 customers wanting to seamlessly migrate to 3CLogic's contact center services, 3CLogic has now broadened the offer to include other platforms as well.
The incentives announced under the "Cloud Switch" program include:
1. Software "trade-In" pricing: 3CLogic is offering qualified users using other hosted or premise based systems the one-time ability to switch to 3CLogic and pay half of the monthly software fees they currently pay to their existing vendor or service provider. For a 50 seat call center this could easily result in a savings of $32,500 in software fees on an annual basis.
2. Half-price CRM Integration: 3CLogic is offering new customers under the Cloud Switch program a 50% discount on customization services that may be required for integration with their existing Customer Relationship Management (CRM) software such as Salesforce.com and Microsoft Dynamics. This incentive will help customers in making the switch to 3CLogic transparent and cost-effective, while upgrading them to a new, up-to-date model that can serve as the technological foundation for years to come.
3. Free, discounted training: With Cloud Switch customers will receive a 50% discount on agent and supervisor training. These are live training sessions conducted by 3CLogic Certified Personnel. Additionally, customers will have free access to e-training modules. Customer sites with more than 50 users should contact 3CLogic for a tailored, on-site training course on the customer's site.
"After an enthusiastic response from our first announcement of the Cloud Switch Program, we decided to broaden and extend the program to include a wider spectrum of hosted and premise based systems. For instance, with our cloud based contact center service, we can really cut the annual maintenance bill that customers pay for premise based systems in half", said Ramana Reddy, Director of Client Services at 3CLogic. He continued, "With customers taking full advantage of our initial Cloud Switch program, we couldn't deny requests to open up the program to other platforms as well."
Some terms and conditions apply to these offers, and prospective users will be asked to provide proof of their current monthly payments. Users of other software platforms should visit http://www.3clogic.com or call 1-800-350-8656 to request more details about this limited-time offer.
Pricing and Availability
The 3CLogic Cloud Based Contact Center service is available immediately under the "Cloud Switch" program by calling 1-800-350-8656 and talking to a Cloud Switch Specialist. A detailed video demonstration of the software can be viewed at http://www.3clogic.com/demos. On average, 3CLogic is priced significantly lower than comparably-configured competitive offerings along with the widest range of pricing and licensing terms. For example, some of the starter packages from 3CLogic start as low as $995 and include a comprehensive suite of call center features. Offer ends on December 30th, 2011.
About 3CLogic
3CLogic, headquartered in Rockville, Maryland, is a leading provider of social media applications for interactive e-commerce transactions as well as cloud based VoIP call center solutions. 3CLogic adds voice, chat and text capabilities to any e-commerce transaction on social media networks and combines them with a cloud based contact center solution. 3CLogic's Inbound and Outbound call center capabilities combined with their cloud technologies helps companies of all sizes as well as across all industries increase service quality while reducing operating costs. For more information, please contact 3CLogic at 800-350-8656 or info(at)3clogic(dot)com. http://www.3clogic.com.
###