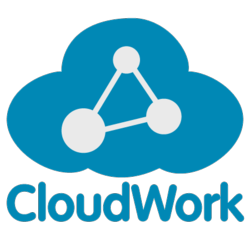 CloudWork solves a big problem: It lets business and social media apps talk to each other.
BARCELONA, SPAIN (PRWEB) October 17, 2012
Nubera, a pioneer in cloud apps discovery and integration and creator of GetApp, the largest independent apps marketplace, today announced it has launched CloudWork, a new service that gives small business professionals a seamless and hassle-free way to keep tabs on their apps. CloudWork connects the most important and popular business and social media apps to let companies automate their key business processes in the cloud. It frees entrepreneurs and their team from performing repetitive tasks and business process chores.
The company also announced the acquisition of Tarpipe, one of the pioneers in integrating cloud apps. CloudWork will be unveiled today during the WebSummit 2012 Spark of Genius competition in Dublin.
"CloudWork solves a big problem that small and mid-size companies face every day: It lets the business and social media apps they rely on finally talk to each other. Integrating your apps improves workflows and increases productivity. CloudWork makes a company's apps work harder so the team can focus on what's really important," said Christophe Primault, co-founder and CEO of Nubera. "CloudWork focuses on very practical use cases such as synchronizing contacts between apps, having a single view of customer interactions, getting real-time notifications about apps activities or automatically backing up important documents."
More than 40% of small businesses are already using cloud-based apps and 15% operate more than five different types. What's often missing is a unified view across all the different cloud apps a company uses. Instead, employees are forced to log into several websites or apps multiple times a day to track news feeds and sales leads, inbound calls or help tickets. By integrating crucial cloud apps, small companies now have a virtual systems integrator at their disposal. CloudWork gives them easy but powerful tools to tap into big data streams, track and manage key business tasks, and define and automate business processes. The end result is a more fine-grained view of their team member and customer interactions.
CloudWork is a web-based service with tiered pricing that connects data from a growing list of major cloud apps (Google Apps, Zoho, HighRise, Capsule CRM, Zendesk, Desk.com, Freshbooks, Dropbox, MailChimp, Evernote, Twitter etc.). Businesses can automatically track the information that matters to them: social media conversations about its brand feed into help tickets or an archival system, new business leads can suddenly talk to the accounting app, and mail campaign management has a direct line to the CRM app and scheduling for salespeople.
CloudWork does not require big upfront investments, technical expertise or lengthy set-up. Users choose their existing apps and authorize access to them before selecting a packaged integration stream. CloudWork will check for new activity by connecting through APIs and run tasks securely in the background. "What sets us apart is our focus on integrations that work and add immediate value," explained Primault. "Every single one of our integration streams has been tested and is guaranteed to work out of the gate. If you run a business, you don't have time to fiddle with complicated parameters and rules. You just want your apps to talk to each other."
Through its acquisition of Tarpipe, CloudWork can tap into the experience of more than 25,000 users worldwide who have integrated their social media apps this way for the past two years and successfully automated more than five million tasks. CloudWork is part of a vibrant hub for users of business apps in the cloud. It will be tightly integrated with its sister service GetApp, the largest independent marketplace for cloud apps.
To learn more and sign up, visit http://www.cloudwork.com.
About CloudWork
CloudWork is a service by Nubera, a cloud apps pioneer. Nubera's vision since its launch in 2010 has been to help small businesses be successful with cloud applications. Its first service GetApp is the biggest independent apps marketplace. More than 1.5 million enterprises have used GetApp to discover and buy cloud applications. CloudWork opens the next chapter in successfully running a business in the cloud. It lets small businesses connect their business and social media apps to automate key tasks and processes, all without requiring big upfront investments or technical expertise. Nubera has received $1.1 million in funding by VC firm Nauta Capital.
More information about CloudWork and its service is available at: http://www.cloudwork.com. Follow CloudWork on Twitter: @CloudWork