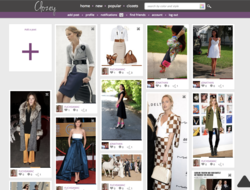 Boston, MA (PRWEB) June 11, 2013
Ask any fashion-conscious female and she'll tell you that building a wardrobe, for work or the weekend, is a constant process of pairing old with new, and mixing and matching outfits to create fresh looks without spending a fortune.
This task has just taken a step in the right direction with the launch of Clozey.com – a Pinterest-inspired fashion network that allows users to build online "clozets," match outfits and get virtual feedback on key clothing decisions prior to purchase. Members can add outfit images, which are tagged with keywords and automatically assigned a color profile, allowing users to search outfits by specific colors and keywords.
Launched this spring by Pearse Street, Inc., a Boston-based software development company, Clozey is quickly gaining traction among the online fashion community as a tool for discovering and collecting wardrobe choices, inspired by celebrity fashion and the newest designer collections.
Clozey offers its users, who must register through Facebook, the opportunity to follow posts from their Facebook friends, as well as the newest and most popular posts. Driven by social cues, the proverbial crème rises to the top, showing fellow fashionistas what is "trending now."
"I've tried to create a 'virtual wardrobe' on other sites, but never with this much ease," says avid online shopper and fashion aficionado, Amber Abbott. "The option to search by colors and styles actually helps me find outfits that work with items I already own."
As much as Clozey serves shoppers, the fashion forward social network also caters to designers and boutiques looking to promote their newest collections and inventory. After adding items, online retailers and fashion houses can then get a sense of what styles, colors and fabrics are resonating with their target market based on the items' popularity on the site.
Clozey.com also provides the websites of retail sites and new designers to make final purchases, bridging the gap between collecting inspirational images and online shopping. The result is a hybrid experience, providing a platform for online window-shopping while collecting favorites in order for shoppers to make informed purchasing decisions down the road.
Traditional online shopping involves reams of photos with direct to purchase instructions, often marked in red type with generic markings in a kind of laundry list format. For both consumers and fashion insiders, Clozey.com has brought the fun back to online shopping.
"We built Clozey as a fun alternative to the typical online shopping experience," said Clozey founder, Fuchsia McInerney. "There really isn't any place else where you can browse clothing and accessories on this scale, without requiring you to add your favorites to a cart. While 90% of posts have links to purchase, members can also opt to simply collect fashion snapshots for inspiration or wishlists."