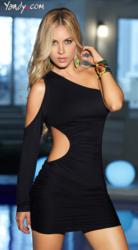 Phoenix, Ariz. (PRWEB) May 01, 2013
Yandy.com, online retailer of women's lingerie, clubwear, costumes and more, introduces a new line of day to evening club dresses to the already expansive collection of dresses available on the site. The new AM/PM collection from Espiral includes sexy clubwear dresses, summer dresses and clothing that take the wearer from day to evening in style.
Yandy shoppers are always seemingly on the look out for the hottest and trendiest clubwear around and with the addition of this new clubwear collection, they do not have to look far. The new collection includes a one shoulder, cut out side, black mini dress for $37.95 and a blue, zipper strap mini dress with contrast design hemline for $31.95 among dozens of others that are perfect for wearing out to clubs.
Other stand out items in the new collection includes summer dresses and convertible dresses. The convertible, high/low hemline tube dress, for example, can also be worn as a skirt paired with a cute top which allows for versatility. The billowy halter dress with cinched in waist is a fashionably and casual look and makes for a great new addition to any wardrobe for summer as well.
The new AM/PM collection at Yandy has endless possibilities for shoppers looking to expand their wardrobes without breaking the budget.
In addition to the new AM/PM collection by Espiral now available at Yandy, every shopper receives free, flat rate shipping on orders over $70 as well as a free panty with every order.
About Yandy.com
E-commerce is on the rise and Yandy.com is one of the largest online retailers of lingerie, sexy Halloween costumes, swimwear and clothing on the web. Founded in 2005, Yandy boasts more than 7,000 products always in stock at affordable prices. Yandy ensures that every customer will receive a safe, secure and private online shopping experience and is backed by COMODO online security and Google Checkout. Yandy is dedicated to customer service and only sells what is in stock which allows for quick, same day shipping. Offering the highest quality products at the most affordable prices in the market, Yandy has become a leader in ecommerce. Yandy works closely with all of the manufacturers they distribute for and hand select all of the items on the Web site to ensure customers have the largest and most diverse collection to choose from. In addition, the customer service team at Yandy is unrivaled. With attentive and helpful operators, should a question or problem arise, the customer service team at Yandy is always willing and able to assist. At Yandy, every customer can Be Sexy.
###