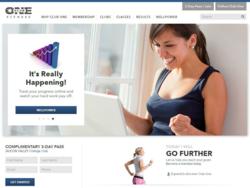 ClubOne.com is yet another touchpoint that makes fitness and wellbeing more accessible and personable to our members and visitors through an enhanced web experience.
San Francisco, CA (PRWEB) July 12, 2012
Club One, a nationally recognized leader in the health, fitness and wellness industry, announced the relaunch of its consumer website for the Club One Fitness branded Bay Area health clubs this week. Featuring the latest in interactive technology, the new ClubOne.com now delivers a more personalized online experience and improved consumer utility for its members and likely customers.
"Every interaction with the Club One brand is purposefully aligned to deliver exceptional service and to anticipate needs. The integration of interactive technology on ClubOne.com is yet another touchpoint that makes fitness and wellbeing more accessible and personable to our members and visitors through an enhanced web experience," says Bill McBride, President & Chief Operating Officer for Club One and Chairperson for the International Health, Racquet & Sportsclub Association. "It's smart, sleek, clean, and inviting - truly representing what Club One is all about."
The new website provides quick access to what Club One's research identified as the most sought-after enhancements, including an improved group fitness schedule and easier access to location-specific details and information. Users can personalize their experience by selecting a home club and using the website's new search functionality. Global and club specific media feeds are accessible from every page, displaying Club One's most recent updates on sites like Facebook, Pinterest, Twitter and YouTube.
Club One engaged Bay Area's SolutionSet, a digital agency that is part of the Hyper Marketing Inc. network, and licensed Sitecore software to create an online experience that tailors to users' preferences. The design features an updated look and feel, with written content reflecting Club One's personable and supportive voice and expanded information on Club One's services. Fitness-related photography taken both inside of the clubs and by prominent local landmarks reflect Club One's affinity for the Bay Area's outdoor lifestyle, while photos of each location's interiors and staff provide a virtual tour of the clubs themselves.
The website redesign is the latest step in Club One's ongoing technology innovation, which has most recently included their 2011 launch of smart phone applications; an active presence on social media venues through various engagement platforms; and enhancement of WellPower, an online member platform exclusive to Club One. The Club One Fitness website launch also followed the recent redesign of Club One's Fitness Management parent company website, http://www.ClubOneInc.com.
"As a relationships-driven company, we'll continue pursuing new opportunities to enhance Club One's personalized approach to health and wellness through technology and online development." says Robin Klaus, Chairman & Chief Executive Office for Club One.
About Club One:
Club One is a nationally recognized fitness management company, developing award-winning health and wellness solutions that help more than 145,000 members nationwide experience a better quality of life. Founded in 1991, we operate 85 fitness centers across 14 states including Club One branded and owned commercial fitness clubs and our partners' facilities across multiple models and geographies.
Club One's innovative programs and exceptional service environments have earned it numerous long-standing awards, including: "Best Health Club", "Best Place to Work Out" and "Best Places to Work" nods, as well as several Nova 7 Certificates of Excellence. Most recently, Club One was recognized as a "Best in Class" provider of fitness and membership services by the JCC Association and "Best of Medical Wellness" partner by the Medical Wellness Association.
Club One partners include: Autodesk, Chevron, eBay, Electronic Arts, Motorola, Saint Mary's Regional Medical Center, the Jewish Community Center of San Francisco, among many others. For more information, please visit http://www.ClubOneInc.com.
About SolutionSet:
SolutionSet is the fourth largest independent marketing services company, providing robust marketing and business solutions via digital, data management and analytics, direct, and local marketing. We plan, create and deliver integrated communications programs to build brands while driving transactions for clients, including adidas, AT&T, American Express, AMD, CCA Global, Cisco, Dell, eBay, National Consumer Panel, Nielsen and Office Depot. For more information, visit: http://www.solutionset.com.
About Hyper Marketing Inc.:
Hyper Marketing is the largest independent marketing-services network in North America. The newly formed company has 1,300 employees in 24 offices across the country, with expertise in digital, direct, data, promotion, shopper marketing, Hispanic, and media buying and planning. At Hyper Marketing, everything revolves around changing consumer behavior and driving transactions in a hyper connected world. The companies in Hyper Marketing's portfolio partner with CMOs of many of the world's most well-known brands including AT&T, Dell, eBay, Kellogg's, Office Depot, The Home Depot and Unilever to develop integrated programs that deliver profitable results.