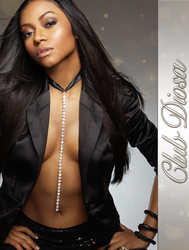 "I am very fortunate to be a part of the rise of this destined star. Not only is her presence magnetic, but her performance is mesmerizing. Seldom comes along an entertainer of Diosa's caliber & triple threat potential" ~Celebrity Publicist Trea Davenport
Atlanta, GA (PRWEB) July 21, 2010
Pop music's next siren of seduction and sound; Diosa Stevenson will turn it up for Havana Club with her debut launch and live performance; CLUB DIOSA on July 22nd at 3112 Piedmont Rd. in Buckhead, GA. After months of metamorphosis and supreme preparation, Felicia Stevenson, aka Diosa, is ready to spread her wings and show the world what popular music has been missing, and perhaps prove why Stevenson deserves her claim among the best in the game. The irrefutable Latina/Americana beauty with the smooth sultry voice and infectious rhythms will captivate and transcend all barriers.
The petite powerhouse exudes electrifying elegance and undeniable talent that will captivate any audience. Presented by Icon Music Group, owned by Barry Zaklad and Teddy Alexander Bishop, featuring the Club Diosa band, DJ Nica, DJ Shane V and Club Diosa dancers choreographed by acclaimed choreographer CiCi Kelley, Diosa Stevenson will formally launch her sizzling new singles, rising dance club favorite; "DJ Turn It Up" along with smoking tracks; "Paramedic", the bossy joint "My Way" and all too sweet "Sugar Rush" off her upcoming album Club Diosa, by producer Teddy Bishop.
Opening the Club Diosa set is TAOS aka the "architect of sound"; debuting singles off his new CD Breaking Ground also orchestrated by Teddy Alexander Bishop. Doors open at 9pm, with live performance at midnight, experience Club Diosa.
To learn more about Diosa visit: http://www.myspace.com/diosastevens. Follow @clubdiosa on Twitter. To secure Media Credentials, contact celebrity publicist TREA DAVENPORT, at: (678) 523-3088 or email: treadayPR@gmail.com or Direct Message @treadavenport on Twitter.
Diosa: The Goddess
Born in the blue collar back drop of Grand Rapids, Michigan and reared in the rays of sunshine and southern charm of Columbia, South Carolina, the vibrant and voracious Diosa Stevenson was perhaps blessed with tenacity and worldly persona from her Mexican mother and the musical moxie of her father [of African descent], who was a lead vocalist and guitar player in a local band.
Before the metamorphosis of DIOSA, the petite-yet-persuasive dynamo was known simply as; Felicia Stevenson, a small town girl with big city aspirations and stars in her eyes.
Felicia began acting, singing and dancing lessons at 7 years old. At the age of 8 she landed a place in a child singing group where their rigorous rehearsals and talent led to a number of local gigs. In the late 90's, Diosa Stevenson started doing her own shows and bigger venues, opening for artists including T.I., Lil' Wayne and Lloyd. The rising star enjoyed the unrelenting support of her close knit small family which consisted of her mom, dad and younger brother.
The young siren's strides and musical achievements became darkly shadowed by the painful loss of her beloved mother when she was only 15. Despite her father's best efforts, the family was broken. She and her little brother had to be moved into separate homes, Felicia lived place to place and switched schools more times than she can count.
Destiny would soon reveal the dawn for Felicia when she was selectively chosen to attend the prestigious Governor School of Performing Arts High School; that rewards each of its students $20,000 dollars a year and housing. There she studied theater, and receive intensive training in acting, singing, voice diction, tap dance and ballet. This seclusion from her family woes allowed Felicia to become focused on honing and identifying her crafts. She also proved to be an excellent student academically; scoring a 3.8 GPA and graduating top 5% in her class.
In her spare time while in still in high school, the independent spirit entered [and won], a number of talent competitions and began building relationships with local musicians and expanded her production chops with the creation of her very own music studio which she operated out of her own apartment to earn extra cash.
While traveling to Atlanta, Georgia to buy a car a couple years ago, Felicia had a chance encounter with her current manager; Barry Zaklad, who happened to be close friends with super platinum producer, Teddy Alexander Bishop…the rest is, as they say; "HER-STORY"!
With the support of Zaklad, the fearless Scorpion made the bold decision to relocate her heart, soul, sofa and college credits to Atlanta where she emerged her self in the transition from southern belle Felicia Stevenson to international pop diva; DIOSA Stevenson [Spanish for Goddess]!
Even in the midst of a flurry of life changes and challenges, the Oxford Scholar ultimately obtained a Bachelor of Science degree in Business at Oglethorpe University in 2010.
With educational goals checked off her long list of things-to-do and the aid of "TEAM DIOSA", comprised of a dedicated collective of the country's premiere star makers; Diosa's live performance, seductive new music and hot sugar persona is poised to give listeners an undeniable SUGAR RUSH!
"TEAM DIOSA"
Teddy Bishop: The Producer
Platinum super producer and musical visionary Teddy Bishop lent his sought after Midas touch to the "Club Diosa" project after witnessing the stunning entertainer in action. No stranger to amazing talent, Bishop felt compelled to lend his support and expertise in the making of what he references as; "The next big thing in Popular Culture". According to Bishop, "It was quite evident that Diosa is an artist that I could not sleep on". After working with illustrious artists such as Letoya Luckett, Toni Braxton, Whitney Houston and Aaliyah and delivering hits such as "Torn" [Luckett], "Just Be a Man About It" [Braxton] and "I Miss You" [Aaliyah], it's safe to say Teddy's Bishops eyes and ears for talent can be trusted.
"Over the years I have had the pleasure of working with a lot of talent in the music industry, Whitney Houston, Toni Braxton, Usher, Aaliyah, Latoya Luckett, Mariah Carey, and many others. My dream always was, and still today is to create a superstar that stays in the game for a very long time. I believe that I have found that type of artist in Diosa".
Other Production Works Include:

100% Ginuwine—Ginuwine
J E Heartbreak— Jagged Edge
Nivea [Self Titled Album]
Multi Platinum Dr. Dolittle Soundtrack
Bobby Valentino
CiCi Kelley: The Choreographer
If you have seen Beyonce's VMA performance, Musiq Soulchild's "Stir Your Senses Tour" or MTV's MADE, then it's a great chance that you have seen phenomenal dancer and choreographer [or her magic] in action. Acclaimed movement extraordinaire; CiCi Kelley is responsible for fluidly translating to the masses, Diosa's captivating showmanship and impeccable control of the stage. Kelley's self proclaimed dedication to the "Club Diosa" project is driven primarily one firm belief—Diosa is a star!
"To have the opportunity to work with an artist that is so humble yet when she is in her artistic mode aka "Ming Ming" she can literally make the hairs on your arms raise, is simply a beautiful experience. Diosa allows my artistry to have no boundaries in creativity. She is over the top with the visions she wants displayed on her stage, and I love embellishing her ideas with choreography that matches and goes beyond her vision to truly develop an entertaining stage show.
Other Accredited Performances:
Beyonce "Get Me Bodied"
Outkast "Ghetto Music"
LL Cool J and Jennifer Lopez "Control Myself"
Tyler Perry's House of Payne Series
Bronner Brothers Hair Show
2009 BET Hip Hop Awards
Trea Davenport: The Publicist
Chrisette Michelle, Gucci Mane and Sheree' Whitfield from "The Real Housewives of Atlanta" all got their start with master publicist Trea Davenport. Fueled by her passion for her clients, Treavion Davenport has propelled her small firm, Trea Day Management and Publicity, into a strong growing force in the PR industry. In the business of "Making Stars Shine Brighter", Davenport's initial interaction with Diosa proved to be a powerful one.
"I am very fortunate to be a part of the rise of this destined star. Not only is her presence magnetic, but her performances are mesmerizing. Seldom comes along an entertainer of Diosa's caliber and triple threat potential.
Other Clients Include:
Gary Guyton of the New England Patriots
T.N.A The New Alliance
Lil Flip
T-Rex Productions
Maceo and Marco
BET's Frankie [Keyshia Cole: The Way It Is]
Kurupt
# # #