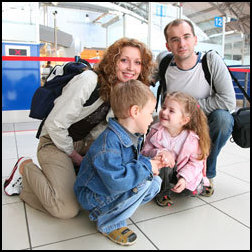 London, England (PRWEB) June 29, 2007
ClubPrem.com, a travel and entertainment program offering great savings on everything from hotels to restaurants in the United Kingdom, not to mention selected countries in Europe, has issued the following statement when traveling with children.
Seeing the world through the eyes of a child can help parents plan a journey that is more child-friendly and less stressful for all. When traveling by air, it's necessary to remind oneself that children may require some extra attention and reassurance to make their flight a comfortable and enjoyable one.
ClubPrem.com suggests that you could try to familiarize your child/children with the chaotic airport environment before travel. Large airport terminals may be a little too much to take in for small children. So give your child a short lesson in the joys of air travel. You can obtain lots of free and exciting information online. You may also purchase some interest activity books from your local book shop. In addition to the above; a few days before you are due to go on your holidays, try to pacify situations that your child may find upsetting or unusual by explaining them and allowing your child to express his/her feelings. Situations that may cause anxiety could possibly include: the long lines of people, the security process and what the airplane will look like (including the noise they make).
Children may also be interested to know about the different types of people that will be helping you along the way (i.e., air stewards, pilots, etc.) Concentrate on all the positive and fun parts of flying -- the airplane snacks or a possible visit to the cockpit to see the pilot. But most importantly, talk about the great time all of you will have once you have finally reached your destination.
ClubPrem.com offers a few more suggestions that may help you turn your child's air travels into fantastic memories that will last a lifetime:
-- Hand luggage. Have your little ones pack their own hand luggage, including healthy snacks, water, activity books, small toys -- items that will occupy their time and give them a sense of security. This will help your child feel more independent and more in control of the situation; it may even add a sense of excitement to the idea of travelling!
-- Arrive early. In general, getting to the airport at the time allotted by your carrier is a great rule of thumb (generally two or three hours before departure). When traveling with children, you should allow even more time still. This should give you enough time to deal with any temper tantrums, collapsing of pushchairs, buckling into car seats, traffic and any other last-minute problems. Children could become more agitated if you have to rush to your departure gate.
-- Take a walk and see the sights. Once you've checked in, let your child explore the airport. Watch airport staff, aeroplane take-offs and other activities on the tarmac. If you have a long flight ahead of you, take a walk around the terminal so your child won't feel anxious on board.
-- Enjoy your journey. While you're in the air, engage your children in the experience. If possible, point out landmarks on the ground after take-off. Then, follow your progress with the maps supplied (on video screens or in the airline magazine), and encourage your children to listen out for announcements from the purser or captain.
-- Watch a film. If you're traveling with a laptop computer, bring along a favorite DVD to help pass the time and keep the children relaxed.
In addition to fulfilling most of your travel needs, ClubPrem.com offers great discounts at popular restaurant chains and retailers, significant savings on music and books, plus much more for the entire family. Members may log on to ClubPrem.com for simple and convenient access to all of their benefits. ClubPrem.com aims to make traveling affordable, fun, safe and memorable. ClubPrem.com
###