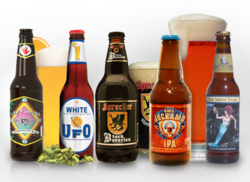 We've always prided ourselves on being flexible while offering great value in our clubs.
Lakemoor, IL (PRWEB) December 10, 2012
For nearly two decades GreatClubs.com has provided a variety of subscription-based gift clubs for American consumers but now, after 18 years in the business, they are pleased to announce a new "instant savings" promotion for their Beer of the Month Club, just in time for the holidays.
As the name suggests, the [Beer of the Month Club from Clubs of America is a monthly subscription service that ships some of America's finest craft beers directly to the customer's doorstep, each month. While there are never any minimums, restrictions or contracts to abide by, this new "instant savings" incentive will instantly save customers $25 with any 12-month membership – an added bonus for those loyal subscribers or gift givers looking to take full advantage of the already valued program.
"We've always prided ourselves on being flexible while offering great value in our clubs," says Doug Doretti, President of Clubs of America. "We've never required customers to adhere to any minimums for our memberships and while this is still the case, we're excited to put this $25 off incentive program in place because it simply provides a way for our more serious customers to enhance their experience with us." "We also give our customers flexibility to pay-as-you-go billed monthly or the option of paying up front for their memberships".
Costing under $40 per month with Free Shipping, the Beer of the Month Club subscribers receive 12 bottles of hand-selected microbrews, comprised of four varieties in total, every month. Featuring unique beers and breweries such as Howling Wolf Weisse and Sweetgrass Pale Ale from the Grand Teton Brewery in Idaho and Harvest Ale and Helles Lager from the Fordham Brewery in Delaware, this Beer of the Month subscription is certainly the best way for beer lovers to experience quality beers that they can't get anywhere else and, with this newly launched "instant savings" promotion from GreatClubs.com, holiday shoppers can now save $25 when they sign up for a 12-month subscription in any eight of the monthly clubs.
###
We are the world's foremost Gift of the Month Club specialist. Since 1994, our family owned company has shipped over 3 million gift packages to private individuals, celebrities and Fortune 500 companies alike. In addition to the Beer of the Month Club, Clubs of America operates seven other gift of the month clubs. These include - wine, flowers, fruit, cigars, coffee, chocolate and pizza of the month.
Memberships can be ordered online at http://www.greatclubs.com or by phone at 1-800-CLUB-USA.