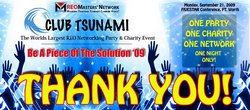 The ultimate goal is to simply to help our neighbors, and those in need.
Phoenix, AZ (PRWEB) September 13, 2009
On Monday, September 21, 2009, at 8:30 PM in Fort Worth, Texas, the NFSTI REOMasters™ Network, a national group of real estate agents who sell foreclosure properties, are bonding together to raise money and awareness for the victims who have lost their homes from the Tsunami of foreclosures that have swept our nation in the last three years. The charity event is called Club Tsunami, in which all ticket proceeds will go to benefit the Foreclosure Angel Foundation, a not for profit. Club Tsunami is being held at the 22,000 sq/ft City Streets Venue on the corner of 4th Street and Commerce, in Fort Worth, TX. Club Tsunami includes a red carpet celebrity style entrance and photo with the Foreclosure Angel (Marilyn Mock), VIP Section for special guests, a Fidelity National Title sponsored cigar and scotch lounge, plus two dance floors.
Marilyn Mock, the Foreclosure Angel herself, a title given after purchasing (and saving) a foreclosure home at an auction for a complete stranger, is founder of the Foreclosure Angel Foundation (As seen on Oprah, 20/20, CNN, and more). Now joined by the NFSTI REOMasters™ Network, they are helping those in need who are facing foreclosure by paying back balances, purchasing new homes in auctions, finding suitable rentals, renegotiating loans, and more. "The ultimate goal is to simply to help our neighbors, and those in need." said Marilyn.
In 2008 alone, over one million people lost their homes to foreclosure. To put this current national crisis in perspective, compare the 275,000 homes lost in Hurricane Katrina with the number of American's losing their homes now. It is expected that over two million will be lost by December 2009 as a result of foreclosures. These families, our neighbors in every state, have been foreclosed on and are in need of immediate attention, otherwise face eviction and homelessness.
The REOMasters™ Network is raising money and awareness by hosting a three week Coach-A-Thon™ with top foreclosure industry experts providing free training and coaching leading up to the Club Tsunami Celebrity Style Charity Event. "Our goal is to raise $50,000 for the Foreclosure Angel Foundation at this event." Said Scott McLaine Co-Founder and CEO of the NFSTI REOMasters™ Network. Banks, title companies, industry vendors, asset managers, agents, and even celebrities are stepping forward to support this event and this cause. We all need to "BE A PIECE OF THE SOLUTION" said McLaine … quoting the tag-line of the initiative.
If you would like more information about this topic, to make a donation, or to schedule an interview with Scott McLaine &/or Marilyn Mock, please call Scott McLaine at 602-790-5441 or e-mail Scott at scott (at) lifepower (dot) net.
###