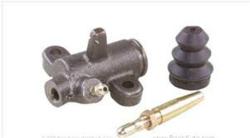 Suppliers for used parts have helped this company to expand its current inventory listed on the Internet.
Tacoma, WA (PRWEB) June 17, 2013
Vehicle production includes automatic and manual transmission components. Parts breakdown or excessive wear could cause the need for vehicle owners to replace these parts. Automobile owners unable to find transmission related parts can now access the AutoProsUSA.com company database online. This company has now included used clutch slave cylinders in its manual transmission inventory online at http://autoprosusa.com/clutch-slave-cylinders.
These preowned OEM edition parts are designed to fit into foreign and domestic vehicles without installation issues. Suppliers for used parts have helped this company to expand its current inventory listed on the Internet.
Manual transmissions were the standard units for shifting gears in automobiles until the early 1980s. Automakers developed automatic transmission technologies that did not require the use of a clutch mechanism to provide different shifting patterns in vehicles. Vehicles with manual transmission units are continuously manufactured by automakers and parts for these units can be in a shorter supply.
The addition of the used clutch slave cylinder units online is one example of the parts upgrades added for consumers this year. Aside from the pricing now published, supplier warranties are now attached with all preowned parts sales.
"Parts listed for sale inside our database come from trusted supply companies that evaluate the condition of parts before shipments are complete," a source added from the AutoProsUSA.com company. The preowned industry for auto parts can include a level of buyer risk when purchasing parts not evaluated before a sale is complete.
"Each warranty supplied with a parts sale is honored by fulfillment companies to offer additional assurance," the source concluded. These measures have increased the parts quality and amount of orders now placed through the Auto Pros company systems this year.
The parts now supplied for consumer research and purchase online are now marketed in multiple ways. The company database is one method consumers are now using to locate a preowned part for automatic or manual edition transmissions.
A new YouTube channel has been launched to help support customers with parts information and other data. One of the newest videos can be viewed by visiting http://www.youtube.com/watch?v=Q3Zxh_s6wUY. This series of streaming video content is expected to continue for consumers to provide information how to order and data that is not extracted using the company database online.
Secondary market companies not currently listed inside the searchable database for consumers online can make requests to include parts or complete inventories online. Companies can now use the updated contact information for the Auto Pros company by submitting requests to the following address:
Auto Pros USA
1270 Crabb River Rd.
‪Richmond, TX 77469
(888) 230-1731
(713) 560-7017
About AutoProsUSA.com
The AutoProsUSA.com company offers consumers immediate access to search its growing database of preowned auto parts sourced from supply companies inside North America. The parts and components listed for consumer sale are reduced in purchase price due to the negotiations made prior to listings published online. The AutoProsUSA.com company staff supports customers through its quotation tools listed online for instant pricing and a toll-free number is now in place. These measures are helping this company offer alternatives not found through auction parts sellers or classified advertisements listed online selling discounted auto parts.