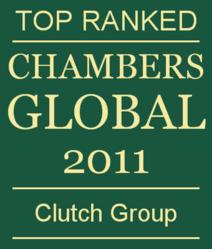 We were born out of the financial services industry and we will continue to be a source of innovation for the market.
Washington, D.C. (PRWEB) September 27, 2011
Clutch Group, a leading global provider of legal solutions, was ranked as a top provider of Legal Process Outsourcing (LPO) in the "Global 2011 Client's Guide" from Chambers, an industry-leading researcher and provider of legal directories.
Clutch Group was commended as a "well-established LPO provider" for its market penetration, carrying out extensive legal support work from its offices and delivery centers across the globe.
"As the LPO sector continues to grow, we continue to look for innovative solutions to serve our global clients," said Clutch Group CEO Abhi Shah. "We are thrilled to be recognized by Chambers and Partners and we will continue to strive to exceed the expectations of our clients."
Chambers Global has been researching the legal markets of over 180 countries for more than two decades, identifying the leading legal services providers worldwide. The firm's sterling reputation is based upon the independence, accuracy and objectivity of their research.
In addition to recognizing Clutch as a leader in LPO, this award highlights the group's extensive experience in multilingual document review on behalf of international law firms, and global retail banks. "The global banking sector has gone through a geometric change since the 2008 crisis. In our ranking Chambers has recognized our unique role in pioneering new services that allow our financials services clients to address the growing regulatory complexity of their environment. We were born out of the financial services industry and we will continue to be a source of innovation for the market, " said Mike Ross, Chairman of Clutch Group's Advisory Board and former General Counsel of Citibank.
Research for the rankings include in-depth interviews with clients and with lawyers over the telephone, each one lasting about half an hour. The qualities on which rankings are assessed include technical legal ability, professional conduct, client service, commercial astuteness, diligence, commitment, and other qualities most valued by clients.
About Clutch Group
Founded in 2005 by attorneys from top law firms and business process pioneers, Clutch Group was among the first legal outsourcing providers and is an established global leader in delivering solutions for law firms and corporations. Clutch Group's proven track record for high quality, cost-effective work product, seamless project management, highly scalable infrastructure and an integrated global service model allows it to lead in providing the professional services of law. The company, a certified Minority Business Enterprise, is consistently ranked as a Top Legal Process Outsourcing firm worldwide by the Black Book of Outsourcing, Dun & Bradstreet, Frost & Sullivan and Chambers Global. Clutch Group has offices in Washington, New York, Chicago and Bangalore, India.
To learn more about Clutch Group please visit http://www.clutchgroup.com
# # #