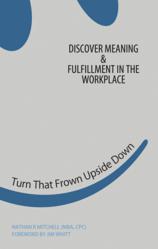 Los Angeles, CA (PRWEB) September 29, 2012
Nathan R Mitchell is the founder of Clutch Consulting. On Wednesday, October 10th, Nathan will be holding a webinar called "The Power of Purpose: How to Effectively Manage Career Transition" from 8 PM – 9 PM CST. This one-hour webinar will provide participants with a foundation to effectively manage career transition during uncertain times through the transformational power of purpose.
Mitchell started Clutch Consulting in 2010 to pursue his purpose in life – "to grow businesses and empower people by helping them find purpose, meaning and fulfillment in their work." He's been fulfilling that purpose since as a consultant, speaker and writer. He is the author of the Brian Tracy endorsed book "Give Me the Ball! Winning the Game of Business", and the James Malinchak endorsed book "Turn That Frown Upside Down: Discover Meaning & Fulfillment in the Workplace."
Mitchell also knows all about career transition on a very personal level. He had nearly a dozen years of experience as a mid-level manager with a Fortune 50 company before deciding to leave and start his own business. "There's no easier way to say it, but I was unhappy and unfulfilled in my work. The organization I was working for was going through a lot of change. I had to learn to either live with that or take responsibility and change it. I always had this feeling I was meant for something more – that I was meant to serve a purpose, to contribute something of value to the world, and I was willing to pursue that with everything I had."
In response to Mitchell's recently released book, James Malinchak says "Nathan Mitchell is committed to making a difference in the world of business and the lives of others. He has written a book that will inspire and benefit all who read it. It's full of common sense we can all use to find more purpose, meaning and fulfillment in our life and work." – James Malinchak, Featured on ABC's Hit TV Show "Secret Millionaire," Author, Millionaire Entrepreneur Secrets Founder, BigMoneySpeaker.com
Webinar topics include: finding the right career; the importance of purpose and career alignment; Identifying natural talents, skills and abilities; finding meaning & fulfillment in the workplace; work/life balance; and more!
Registration for the event is only $47.00 and includes a complimentary copy of Mitchell's book Turn That Frown Upside Down (A $15 Value), and a complete Values Index Profile™ (A $147 Value) that will get participants started on the right foot to finding a more rewarding and fulfilling career.
To register for this event, simply visit http://Webinar.ClutchConsulting.net