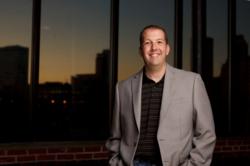 I focus on 'tried and true' methods that when strategically implemented, work for the majority of business owners.

-Nathan R Mitchell (MBA, CPC)
Tulsa, OK (PRWEB) May 09, 2012
Nathan R Mitchell, Founder of Clutch Consulting LLC in Tulsa, OK has been mentoring, coaching, and conducting business consulting work with entrepreneurs and small business owners for a while now.
He started his company in 2010 with one, very simple mission: "Growing Businesses and Empowering People." Nathan helps business owners and aspiring entrepreneurs grow their business, get more clients, and ultimately achieve and produce better results.
"The economy has hit a lot of businesses hard," says Mitchell. "The interesting thing is not a whole lot has changed with regards to the challenges business owners and entrepreneurs face. I've been doing research for a while now both on my own and with my clients, and what I've discovered is the same three challenges keep coming up: 1) Getting Clients, 2) Time Management, and 3) Money. The good news is, if you are able to get more clients, it's much easier to address the other two."
The problem is many business owners don't know where to start. And that's why Mitchell recently wrote a "White Paper" entitled "The Absolute Truth on How to Acquire New, Loyal Clients, Fast!"
According to Mitchell, the real problem lies in not having enough leads. And in today's technological and internet-dominated world, it's easy for many business owners to get caught up marketing exclusively online.
"Although online marketing is essential," says Mitchell, "effective lead generation, which ultimately helps owners acquire more clients, requires a combination of online and offline tactics. I've grown tired of all the 'magic pills' being offered to the small business community today about how to EXPLODE their business. I focus on 'tried and true' methods that when strategically implemented, work for the majority of business owners."
And that's why many people call Nathan their "Trusted Business Advisor." He helps them implement REAL SYSTEMS that ultimately produce REAL RESULTS.
For a limited time, Nathan is offering a complimentary copy of his report "The Absolute Truth on How to Acquire New, Loyal Clients, Fast!"
Readers of this report will learn:

How to attract highly targeted prospects and clients who WANT to do business with you
Nathan's top 8 strategies for getting more clients faster than you ever thought possible
What you must do STARTING TODAY to create a flood of TRAFFIC, LEADS, and SALES for your business! And...
Why SEO is so important, and how to get ranked on Google, so customers can find you easily online
To request a complimentary copy, visit: http://freereport.winningthegameofbusiness.net
Contact Info:
Clutch Consulting LLC
c/o Nathan R Mitchell (MBA, CPC)
3939 S Harvard Avenue #175
Tulsa, OK 74135