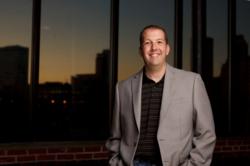 "Nathan knows what it means to overcome adversity and achieve success. He can help you do the same."

–Craig Groeschel, Founding and Senior Pastor of Lifechurch.tv
Tulsa, OK (PRWEB) June 20, 2012
Business and leadership development coach, Nathan R Mitchell, is making a personal commitment to helping business owners and executives become better leaders. In fact, he's created a whole coaching process and curriculum devoted to the cause.
Mitchell calls it "Purpose-Driven Leadership," and it's a process of self-discovery, coaching, and personal mentorship.
"In the Purpose-Driven Leadership process, participants gain a clearer understanding of how their behavioral preferences, their key life experiences, as well as their strengths and weaknesses, may be used to better impact their own lives as well as the lives of those they lead," says creator, Nathan R Mitchell.
The seven week process includes:
1) The discovery and understanding of your personal behavioral preferences and habits
2) The identification of key life experiences that have shaped you into who you are today
3) Clarification of individual strengths, weaknesses, and opportunities for personal development
4) Embracing your story, while seeking guidance and direction for your life purpose
5) A personal commitment to yourself to sharpen your leadership skills
6) Applying what you've learned in your business or career
"Purpose-Driven Leadership is a very systematic process," says Mitchell. "It's important to note, however, that learning to be a better leader of others, while pursuing our own life purpose is an ongoing endeavor."
While going through the process, participants can expect to...
-Become more engaged in their work and life
-Develop a better work/life balance
-Learn more about themselves than they ever thought possible
-Achieve a greater sense of clarity regarding their own life purpose
-Develop sound leadership qualities that will help them become the business owner or career professional whom others will want to follow
The Purpose-Driven Leadership process is not offered outside of a one-to-one or small group coaching relationship; however, leadership workshops are also available.
If you are interested in becoming a participant in the process, or want to learn how you can sponsor a workshop for your organization, please contact Nathan R Mitchell via the contact form on his site at http://www.clutchconsulting.net/contact