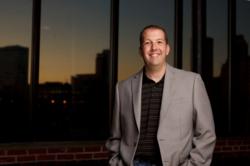 Nathan Mitchell through Clutch Consulting and his book Give Me the Ball! Winning the Game of Entrepreneurship, are well-positioned to make the difference between success and failure.

Jim Stovall - Author, Speaker, Entrepreneur
Los Angeles, CA (PRWEB) April 18, 2012
Clutch Consulting, a business consulting and coaching company dedicated to "Growing Businesses and Empowering People," announces the launch of an aggressive affiliate program in an effort to help change more businesses and more lives.
Trusted Business Advisor, Nathan R Mitchell, announces this on the heels of bringing "The Winning Mindset Series," to market. "The Winning Mindset Series" is a monthly subscription-based membership program designed to help existing business owners and aspiring entrepreneurs acquire the knowledge, tools, and resources they need to succeed.
"Many businesses don't understand the importance of joint ventures and affiliate marketing," says Mitchell. "Affiliate programs and joint ventures are absolutely necessary in this economy if businesses are looking to extend their market reach."
And that's exactly what Mitchell and his company, Clutch Consulting, are looking to do.
"I want to help as many people as possible achieve their goals and dreams in the wonderful world of free enterprise," says Mitchell. "Our monthly subscription-based membership program 'The Winning Mindset Series' is one of the ways we are looking to do that moving forward."
The good news is Mitchell and Clutch Consulting have put together an aggressive affiliate program to help spread the word and compensate others in the process.
"We are looking to partner with people whose mission is in alignment with our own organizational vision and objectives," says Mitchell. "Obviously, we won't work with just anyone. Our affiliate program requires an application and approval process, but for those we do accept into the program, it's a great opportunity to create a long-term mutually beneficial relationship."
Subscribers to "The Winning Mindset Series" receive…
1) Exclusive Monthly Audio CDs – Each CD is chock-full of content from Nathan and other industry experts and entrepreneurs that when applied will build your business and put money in your pockets.
2) Nathan's Monthly Newsletter – Each issue is packed with examples of what works, what doesn't work, and industry news that is designed to inform you of current trends in business and marketing arenas. To put it bluntly, it's LOADED with content and Nathan's most sought-after strategies.
3) A free Copy of Nathan's Brian Tracy endorsed book Give Me The Ball! Winning the Game of Entrepreneurship
For those interested in becoming a subscriber, simply visit http://www.growyourownbiz.info to enroll today.
For those interested in learning more about Clutch Consulting's affiliate program, an application can be found by visiting the following URL: AFFILIATE PROGRAM LINK
Contact Info:
Clutch Consulting LLC
C/o Nathan R Mitchell
3939 S Harvard Avenue #175
Tulsa, OK 74135
###