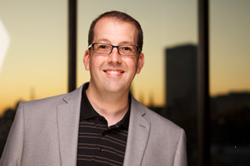 "Nathan provides you the fundamentals you need to get in the game and win!"

–James Malinchak, Featured on ABC's Hit TV Show Secret Millionaire, Co-Author Chicken Soup for the College Soul, Founder www.bigmoneyspeaker.com
Tulsa, Oklahoma (PRWEB) January 31, 2012
A Tulsa-based entrepreneur and business consultant is hoping to help business owners and non-profit organizations prosper in this economic downturn through business strategy and employee engagement. Nathan R. Mitchell (MBA, CPC), Founder and Principal Consultant of Clutch Consulting LLC, helps small to medium-sized companies and non-profits strategically align business plans with core competencies.
Mitchell is also currently working on a book on the same subject entitled "Driving Excellence – Solid Growth through Strategy and Employee Engagement." A book that world-renowned speaker and author, Brian Tracy, says is a "fast moving, practical book that shows you how to motivate, inspire and unlock the potential of each person in your business."
"The economy has hit a lot of businesses hard," says Mitchell. "Unfortunately, many businesses are in 'survival mode,' and simply aren't thinking as strategically as they once were. Many businesses are simply trying to protect the bottom line. It's time for companies to start dreaming again about what's really possible, and more importantly making sure that vision gets communicated to the front-line employees responsible for making it happen."
Nathan R Mitchell has worked with a Fortune 50 company for more than a decade, and is now focused on helping Business Owners and Entrepreneurs become more efficient and more profitable. Most recently he has been on a speaking tour with his 2011 book Give Me the Ball! Winning the Game of Entrepreneurship, which received endorsements from world-renowned author and speaker, Jim Stovall, and James Malinchak from ABC's Secret Millionaire.
Mitchell's organization, Clutch Consulting, evaluates and diagnoses business environments and processes from Organizational Strategy, Business Planning, Employee Engagement, and Human Resources perspectives for small to mid-size companies, non-profits, and start-up firms. An intense focus is given to the core competencies, organizational health, and overall brand awareness a business possesses in an effort to maximize efficiency, profitability, and market awareness for companies looking to improve their processes, vision, operational strategy, and ultimately their results.
Although Clutch Consulting is located in the heart of mid-town Tulsa in the Impact Office Building at 3939 S Harvard Avenue, the organization focuses on working with companies in a five-state region, which consists of Oklahoma, Missouri, Texas, Arkansas, and Kansas. Learn more at http://www.clutchconsulting.net
Mitchell is available for consulting, speaking engagements, book signings, and media interviews.
Contact Information
Nathan R Mitchell (MBA, CPC)
c/o Clutch Consulting LLC
3939 S. Harvard Ave. Suite #175
Tulsa, OK 74135
918.851.7246
###