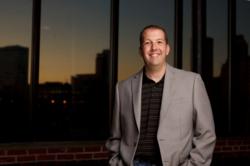 "Clutch Consulting came highly recommended. Nathan is both knowledgeable and professional at what he does. I highly recommend Nathan if you want to take your business to the next level."
Tulsa, OK (PRWEB) February 15, 2012
A Tulsa-based Entrepreneur and Business Consultant is pledging to give back to the community in 2012. Nathan R Mitchell, Business Author, Business Consultant, and Motivational Speaker, has decided to work with four non-profit organizations in 2012 on a Pro Bono basis. "I will be working with one organization per quarter," says Mitchell. "It's a great way for Clutch Consulting to give back to the community."
Most recently, Mitchell has been working with a non-profit startup called Nameless Label Studios.
Aaron Davis, one of the founding partners of the organization, had this to say. "Clutch Consulting came highly recommended. Nathan is both knowledgeable and professional at what he does. I highly recommend Nathan if you want to take your business to the next level."
When asked how he plans to help area non-profits, Mitchell said, "It all depends on the needs of the organization. No two projects ever look exactly the same, and it would be wrong of Clutch Consulting to offer organizations a 'cookie-cutter' approach to improving their operation. From my experience and research, I've found that many non-profit organizations are leaving too many fundraising dollars on the table, so we usually address that first. Whether you are non-profit or for-profit, it's hard to operate without steady cash flow. Many non-profits can increase their fundraising efforts significantly by simply tweaking a few things."
Mitchell, a graduate from Missouri State University in Springfield, earned a B.S. Degree in Entrepreneurship and a Masters in Business Administration. In addition to his strong foundation in academics, he also has "real-world" experience in many aspects of Business Management and Leadership due to his decade of experience in Operations Management with a Fortune 50 company.
Most recently he has been on a speaking tour with his 2011 book Give Me the Ball! Winning the Game of Entrepreneurship, which has received endorsements from world-renowned author and speaker, Brian Tracy, entrepreneur Jim Stovall, and ABC's Secret Millionaire, James Malinchak.
Mitchell is also working on his second book that is expected to be released this coming summer, entitled "Driving Excellence: Solid Growth through Strategy and Employee Engagement."
Although Mitchell lives in Tulsa Oklahoma and primarily focuses on working with organizations in a five-state region consisting of Oklahoma, Missouri, Texas, Arkansas, and Kansas, he continues to consult with businesses and non-profit organizations across the United States.
"I'm willing to travel anywhere my services are needed," says Mitchell. "I love helping businesses be more efficient and more profitable. It's a lot of fun!"
Mitchell is available for business consulting, speaking engagements, book signings, and media interviews. Learn more at http://www.clutchconsulting.net
Contact Information:
Nathan R Mitchell (MBA, CPC)
c/o Clutch Consulting LLC
3939 S. Harvard Ave. Suite #175
Tulsa, OK 74135
918.851.7246
###