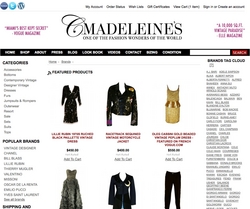 "We want the world to know that this is a fashion destination." -Madeleine Kirsh, C. Madeleine's
Miami, FL (PRWEB) September 22, 2010
Since 1998, Madeleine Kirsh has been the source for premiere vintage clothing and accessories in South Florida, the U.S. and internationally. C. Madeleine's, the world's largest vintage showroom, a 10,000 square foot "wonderland" of fashion collector's items and retro garments attracts celebrities, stylists and fashion designers from all over the world. The store specializes in household name designer labels and design houses that never go out of style: Chanel, Christian Dior, Valentino, Yves Saint Laurent; rare pieces Courreges, Thierry Mugler, and Christian LaCroix, and on trend labels Balenciaga, Balmain, Emanuel Ungaro, all of which are found in the Designer Vintage category in the webstore. Vogue magazine calls C. Madeleine's "Miami's best kept secret". InStyle magazine named C. Madeleine's online store one of the best fashion websites of 2009, first in the vintage clothing category. This was the inspiration for the recent revamp of the company's e-commerce fashion website, http://cmadeleines.com creating a unique shopping experience that reflects the spirit of the showroom.
Vintage jewelry has been added to the site, along with a Contemporary category featuring newer pieces from modern day designers at approachable prices, among them Jean Paul Gaultier, Moschino, Dolce & Gabbana, Alberta Ferretti, and John Galliano. New womens fashions are added weekly. A vintage menswear category will be added next, followed by couture.
"The new webstore is just a natural progression for us," said Kirsh, C. Madeleine's owner and founder with a background in interior design, fashion expertise, and an eye for the unusual. In a recent interview with NBC Miami, Kirsh said Miami is finally coming around when it comes to vintage fashion. "We even have designers that come to C. Madeleine's just for inspiration. The store has 'become a frequent stopover for celebrities looking to add their collection'. "I couldn't even name the amount of celebrities that have come into our store," Kirsh said, "because they know they will be in heaven."
"We want Miami and the world to know that this is a destination location, and when you come here, you are going to have the most fun that you've had in your life." Kirsh extends an open invitation to play dress-up. She adds, "Our store is very magical. You can actually be anything you want to be." Kirsh says the new webstore is a reflection of the brick-and-mortar flagship store: one of the fashion wonders of the world and a fashion destination on the world wide web. From the store's Couture Room to its vintage fashion vignettes from every decade, a large sampling of the same in-store merchandise is available on the Internet.
Wearing vintage clothing and accessories from the past is a trend enjoying the limelight in the last year as it leaped from red carpets to celebrities and their stylists, from "Mad Men" to metropolitan sidewalk trendsetters to Main Street middle America. In a time of conservationism, vintage clothing is a way to reduce, reuse, recycle.
In May, C. Madeleine's joined with Community Partnership for the Homeless (CPH) for their Womenade campaign to assist women in need.Take A Walk In Her Shoes: A Vintage Fashion Showcase fundraiser featured fashion through the years, beauty, pop-ups shops and famed Sex and the City stylist, Danny Santiago.
Most recently, CMadeleines.com has been featured on Elle.com and French Vogue.com, and is one of Google's first picks for its new Google Places service featuring high profile businesses around the world. Livingsocial.com calls C. Madeleine's the best place for one-of-a-king vintage design. C. Madeleine's is also one of BeSleek's top 100 fashion boutiques in North America, partnering with them for the new BeSleek iPhone app promotion launched on September 10, 2010.
About C. Madeleine's: Madeleine Kirsh opened her first store in Palm Beach County, Florida. Relocated ten years ago to 13702 Biscayne Boulevard in Miami, Florida, C. Madeleine's soon decided to take its concept worldwide and opened an e-commerce store, cmadeleines.com, recently redesigned with a new look and feel. The new site is designed to be more user friendly, with the same standard of style and customer service found in the store. The world contacts C. Madeleine's to sell or consign their best fashion garments and accessories. Kirsh searches estates and collections for top tier vintage pieces from the 1800s to the 21st century. Her book "Vintage Clothing Price Guide" from Antique Trader® was published in 2006. Personal shopping and styling appointments are available.
Contact: Rachel Holden
E-Commerce / Internet Marketing Manager
Madeleine Kirsh, Owner
C. Madeleine's
1-305-945-7770
http://cmadeleines.com
http://cmadeleinesvintage.com
# # #