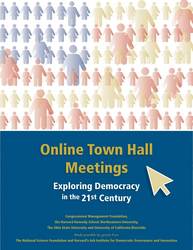 Washington, DC (PRWEB) October 20, 2009
The Congressional Management Foundation and its academic research partners are releasing a report entitled Online Town Hall Meetings: Exploring Democracy in the 21st Century. The report summarizes findings and recommendations from an academic study of online town hall meetings between Members of Congress and their constituents which were facilitated by the partners of the Connecting to Congress project.
WHAT: Highlights include:

Analysis of the impact participation in online town hall meetings had on constituents' views of their Members of Congress and on their participation in political activities, such as talking about politics and the Member and voting;
Examination of how participation in online town hall meetings affected constituents' views of the issue being discussed;
Information about how the demographics of people attracted to the online town halls differed from those attracted by traditional means of political participation; and
Details of how we conducted our rigorous study.
WHO: The report is the result of the Connecting to Congress project, a research collaboration by the Congressional Management Foundation, the Harvard Kennedy School, Northeastern University, The Ohio State University, and the University of California-Riverside. The project was funded by a grant from the National Science Foundation and contributions from Harvard's Ash Institute for Democratic Governance and Innovation.
WHEN: Monday, October 26 at 11:00 a.m., Eastern Daylight Time
HOW: Contact us to receive an embargoed advance copy of the report. To participate in our online press conference, which will include remarks from participating Members of Congress, register at: https://www2.gotomeeting.com/register/770904938
The Congressional Management Foundation (CMF) is a non-profit, non-partisan organization dedicated to promoting a more effective Congress. For over 30 years, CMF has worked internally with Member offices, committees, leadership, and institutional offices in the House and Senate to foster improved management practices through staff training, office consultations, publications on best practices, and technology research. Simply put, CMF advocates good government through good management. For more information, contact CMF at (202) 546-0100 or http://www.cmfweb.org.
###