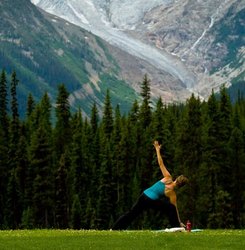 It's an escape. It's an adventure. It's a time of self-awareness and discovery designed especially for those whose lives have been touched by cancer.
(PRWEB) June 1, 2010
CMH (Canadian Mountain Holidays) announces launch of reTREAT Yourself, a three-night escape in Western Canada's remote Columbia Mountains designed especially for those whose lives have been touched by cancer. This unique alpine retreat is in partnership with the Canadian Cosmetic, Toiletry and Fragrance Association Foundation's Look Good Feel Better program.
One of CMH's brand-new Summer Adventures for 2010, the reTREAT Yourself program will take place at Bugaboo Lodge, August 8-11, 2010. Guests will start the day with daily meditative yoga sessions with experienced practitioner Anne Douglas, who is certified in Yoga Nidra, Kripalu, Ashtanga and Anahata Yoga. The retreat will also include one-and-a-half days of hiking amid the glacial lakes and fields of wildflowers of the scenic Bugaboos. And, exclusive to the reTREAT Yourself trip, guests will enjoy a full day of artistic workshops, including soapstone bear carving and bead work, with special guests and co-authors of Cancer and the Art of Healing, clinical psychologist Dr. Marilyn Hundleby, and the CCTFA Foundation's Executive Director, Sherry Abbott.
And at the end of each day, guests can enjoy a swim in a beautiful alpine lake with a view of the Bugaboo spires, a relaxing hot-tub soak and gourmet mountain cuisine served family-style with Bugaboo Lodge staff and guides back at the lodge.
The reTREAT Yourself trip is priced from CAD$2,490 (approx. US$2,447) per person for a 3-night escape, based on double occupancy and exclusive of HST.
For more information, please visit: http://www.CanadianMountainHolidays.com/lgfb or call 1-800-661-0252.
###