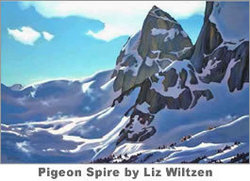 (Vocus) April 26, 2010
Banff, Canada – As part of its brand-new adventure programming for 2010, CMH Summer Adventures is offering a unique active getaway for the artist in all of us. From August 31-September 5, 2010, painters in search of fresh mountain air, hikers who want to learn how to paint the beautiful scenery they traverse and all manner of curious artsy, adventurous types will converge on the Bugaboo range of Western Canada's Columbia Mountains for an exclusive Painting Workshop with Liz Wiltzen.
The new 5-night CMH Summer Adventure will include two-and-a-half days of hiking and painting amid the legendary (and imposing) Bugaboo Spires, the surreal azure blue of the surrounding glacial lakes and the mountain sky overhead, and fields upon fields of colorful mountain wildflowers. Personally recommended by renowned Canadian painter Robert Genn (whose own CMH workshop sold out in just 8 hours!), Liz Wiltzen combines 10 years of guiding experience in the Bugaboos with 20 years of painting, to provide guests with real-time hiking experience in the storied Bugaboos, as well as hands-on artistic guidance in the painting of them. And after long days of hiking, inspiration and artistic expression, guests return to the Bugaboo Lodge for a gourmet alpine meal served family-style, a soak in the hot tub with a view of Hounds Tooth spire and, if desired, group or individual critiques of the day's painting with Liz Wiltzen.
The trip is priced from CAD$3,313 (approx. US$3,255) per person, based on double occupancy and exclusive of HST.
For more information or to book the trip, please visit: http://www.cmhsummer.com or call 1-800-661-0252.
About Canadian Mountain Holidays (CMH Summer Adventures):
Offering heli-skiing since 1965, Canadian Mountain Holidays is the oldest and largest heli-skiing and heli-hiking operator in the world. From their head office in Banff, Alberta, CMH operates helicopter adventures from 11 different areas located in the Bugaboo, Purcell, Selkirk, Kootenay, Monashee, and Cariboo ranges of British Columbia, Canada. Helicopter skiing takes place from December through April. CMH Summer Adventures include hiking, walking, mountaineering, yoga, and via ferrata adventures taking place from July into early September.
###