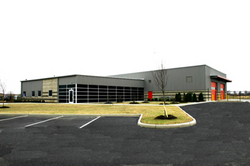 the new facility is the next step to our goal of achieving the ultimate experience for our customers
Grove City, OH (Vocus) March 4, 2009
Grove City, Ohio-- Creative Mobile Interior's (CMI), a highly diversified custom conversion vehicle specialist in Grove City, has moved into new headquarters, showroom and production facility. The state-of-the-art facility will put all three existing plants under one roof.
Along with housing CMI's growing business, "the new facility is the next step to our goal of achieving the ultimate experience for our customers," said Owen Connaughton, owner and president of CMI. Turning into the parking lot, potential clients will immediately be impressed with the beautiful pond and fountain, six foot ornamental fence, and stunning glass vestibule leading into the state-of-the-art facility. Inside, visitors are greeted with an immaculate reception area and modern high design material center. "Our goal is to impress the potential customer from the minute they walk in the front door until they drive out the back door in their new conversion. This building is the tool that will enable us to accomplish that goal," explained Connaughton.
The largest showroom and design area of its kind and a one way mirror looking out into the plant from the conference room all add to the customer's impressive experience. A motorized gate with key pad for after hour arrivals; room for eight buses including plug in capabilities, and a sanitary dump station are features built in to service the company's unique clientele. Future expansions include a camp ground and separate service center.
The custom conversion facility boasts many state-of the-art features including a Hywema lifting system. The six post system is capable of lifting 86,500 lbs up into the air. To keep the interior of the plant clean, a dust collection system was installed and to accommodate the heavy weight of the buses, heavy duty roller-compacted concrete was used on all driving surfaces.
The new building's address is 6237 Seeds Road and is situated on eight acres one mile up from its current Seeds Road location. The land includes over 600 square feet of frontage on I-71 just south of London-Groveport Road (SR 665) enabling the building and its roof mounted 65' long, 4' high lighted sign to be easily visible from both north and southbound I-71.
The new custom conversion headquarters was completed ahead of the schedule and within the overall project budget by Dublin Building Systems. The construction cost of the project totaled approximately $2.5 million. The layout of the building and land allow for three expansions for CMI totaling over 100,000 square feet of building space.
There are room for up to 12 office areas, a break room, restrooms and a copy room. The production area includes four coach bays, one service bay, and four smaller vehicle bays. This area also has individual rooms for upholstery, electronics, stock, and shipping and receiving. Offices for the service and production managers are located in the center and the production plant has its own break and bathroom facilities.
CMI was started in a 4,500 square foot shop in Columbus' west side before leasing a building in Grove City in April of 2002. While in this location, CMI added a leased stand alone service facility, and two additional plants. CMI can be reached at (614) 539-4600, or at http://www.creativemobileinteriors.com.
Contact:
Donna Ruckel
(614) 539-4600
###