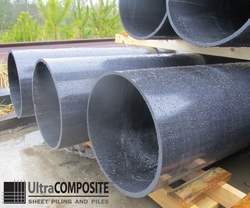 When considering the strength, the low transportation and handling costs, the elimination of maintenance expense, and the estimated 100 year design life, UC-18 piles provide, by far, the best value available for piling.
Atlanta, GA (PRWEB) February 15, 2011
Crane Materials International (CMI) announces the production of the strongest composite pipe piling in the world. The 18" diameter round piling, UC-18 x 0.500, is an addition to CMI's UltraComposite line of products which also include the strongest, most durable composite sheet piling profiles available. UltraComposite pipe piles are used for docks, piers, foundations, dolphin pile structures, mooring poles and in many other applications. Compared to wood, steel, or concrete, UltraComposite piles offer a multitude of advantages including higher performance, corrosion resistance, less environmental impact, and lower life-cycle costs.
UltraComposite piles are stronger than comparable wood, steel and concrete options. As low as 25% the weight of steel, UltraComposite piles will increase safety and reduce liabilities on jobsites as they are easier to handle and can be installed with conventional pile driving equipment. CMI's UltraComposite piles are corrosion resistant and require virtually no maintenance as sealing, coating or painting is not required. Because UC-18 Series piles do not contain toxic preservatives like CCA (arsenic based), coal tar epoxy or creosote, they can be used in bodies of water and areas with environmental restrictions and are a 'green' construction material. When considering the strength, the low transportation and handling costs, the elimination of maintenance expense, and the estimated 100 year design life, UC-18 piles provide, by far, the best value available for piling.
Structural composite materials are not new. For several decades composites have been utilized for bridge decks, girders and superstructures. Composite materials are often used for offshore drilling rig production platforms, industrial water cooling towers, military combat armor and electrical power transmission poles. Also, in the past decade UltraComposite sheet piling has served as an efficient and environmentally friendly alternative to steel sheet piling in marine structures, flood walls, and seepage barriers.
In order to provide the best pipe piling product on the market, CMI knew the manufacturing process and quality control procedures would be critical. Accordingly, UC-18 Series piles are the first and only composite piling that is pultruded in an ISO 9001:2008 certified production facility. Note that products tested at ISO Certified testing labs are not to be confused with products manufactured in ISO certified production facilities. A testing lab cannot verify the many variables involved in the manufacturing process and is not an acceptable level of quality control or safety as they generally only test coupon samples. Pultrusion is the most advanced manufacturing technology utilizing carefully calibrated steel dies and forming tools giving the UC-18 Series consistent shape, thickness, and dimensional tolerances on shape and size. In contrast, processes such as spin casting or vacuum infusion which make one part at a time have an increased possibility of human error and variance in the product. To further ensure long term performance, CMI's pultruded UltraComposite products are all made with a proprietary engineered glass laminate design allowing higher glass content per thickness than vacuum infusion or spin casting. CMI UltraComposite construction materials are revolutionizing the industry and are replacing steel, wood, and concrete on a daily basis.
Crane Materials International (CMI) is part of the Crane Group which was founded in 1947. This family owned business is one of the largest manufacturing organizations in North America and the leader in developing new technologies for construction materials. In addition to being the world's largest manufacturer of synthetic and composite pilings, CMI can also provide proprietary installation equipment, product engineering assistance and a team of piling experts to support every aspect of your project.
For assistance with your next project, or to speak with piling expert in your area, visit http://www.ultracomposite.com or call us, toll free, at 1-877-377-7453.
Crane Materials International: Revolutionizing the Industries We Serve.
UltraComposite is a registered trademark.
###