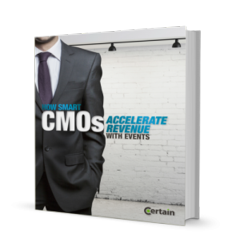 This guide shows how CMOs can gather rich behavioral data to better understand their customers
San Francisco, CA (PRWEB) April 17, 2013
Certain, Inc., the leading provider of enterprise event management technology for the global meetings and events industry, has released its latest guide for Chief Marketing Officers (CMOs). Titled, How Smart CMOs Accelerate Revenue with Events, the 9 page guide offers tips and strategies to maximize the value of events in the revenue cycle.
According to Certain, events offer a unique opportunity for companies to get closer to customers, propel them through the buying process, and cultivate brand enthusiasts. Unlike other marketing programs, events allow organizations to deliver valuable education and connections to prospects based on each individual's stage in the buying cycle.
"The intrinsic value of events is their ability to bring people and brands closer together," remarks Betsy Zikakis, VP of Marketing for Certain, Inc. "This guide shows how CMOs can gather rich behavioral data to better understand their customers, and deliver valuable information and connections at the right time to align with a customer's buying cycle."
The guide is available as a free download on the Certain.com website. It is written for CMOs and other experienced marketing professionals. The content of the guide includes an overview of key marketing challenges, the role of events in a digital world, how to accelerate revenue with events, and the role of event management technology.
Download a free copy of How Smart CMOs Accelerate Revenue with Events at http://bit.ly/events-accelerate-revenue.
About Certain: Powering Connections, Accelerating Business
Certain provides a complete enterprise event management platform that powers personalized event experiences, and enables meaningful connections to accelerate business. Used by the largest corporations, meeting management companies and event producers worldwide, the Certain platform enables event branding, personalization, social and mobile participation, and 1-to-1 meetings that engage audiences and maximize event value for all participants. With Certain's proven SaaS-based technology, cross-functional event teams collaborate, streamline processes, and reduce costs to execute flawless events with operational excellence. To maximize the business impact, the Certain platform integrates easily with marketing automation and enterprise systems to deliver rich customer insights as well as event intelligence. Headquartered in San Francisco, Certain has operations and sales offices in North America, Europe, and the Pacific Rim. For more information please visit http://www.certain.com.