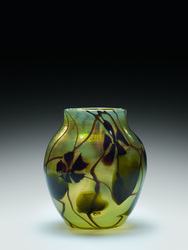 Corning, NY (Vocus) December 7, 2009
The following exhibitions will be on display at The Corning Museum of Glass in 2010. All exhibitions are included in Museum admission which is $14.00 for adults. Kids and teens, 19 and under, receive free admission.
Tiffany Treasures: Favrile Glass from Special Collections
Now through October 31, 2010
Explore a beautiful selection of Louis Comfort Tiffany's blown glass, designed by Tiffany and made at his glasshouse in Corona, NY, between about 1895 and 1920.
Tiffany Treasures: Design Drawings by Alice Gouvy and Lillian Palmié
Now through April 30, 2010
The restoration of eight watercolor sketches from the enamel department of the Tiffany Furnaces provides the impetus for this exhibit. Executed by Alice Gouvy and Lillian Palmié around 1902, these drawings of flowers and plants were probably a reference for motifs used in the design of luxury household objects.
Voices of Contemporary Glass: The Heineman Collection
Now through January 2, 2011
Explore international studio glass through the Heineman collection, which showcases more than 240 important works by 84 international artists, including Howard Ben Tré, Dale Chihuly, Stanislav Libensk? and Jaroslava Brychtová, Harvey K. Littleton, and Toots Zynsky. The exhibition focuses on the "voices" of individual artists.
Masters of Studio Glass: Jirí Harcuba
March 27 – October 31, 2010
Czech artist Jirí Harcuba is internationally known for his portraits in engraved glass. For this exhibit, the artist chose to pare down and simplify the presentation of his work to three objects, which, he believes, reveal the soul of his work: portraits of Czech playwright, poet, and political dissident Václav Havel; painter and sculptor Vladimír Kopecký; and the Bohemian engraver Dominik Biemann.
Medieval Glass for Popes, Princes, and Peasants
May 15, 2010 - January 2, 2011
This is the first exhibition in the United States devoted to glass made for the daily use of peasants, princes, and popes in the Middle Ages. During this period, Europe was transformed, as was the world of glassmaking. After the fall of Rome, all but the simplest techniques were forgotten. But, over the centuries, the quality and quantity of glassware increased. In the later Middle Ages, local products were joined by luxurious glasses imported from the Islamic world, and by the 15th century the stage was set for the golden age of Venetian glassmaking.
Drawings for American Stained Glass
May 17 - December 31, 2010
Drawings of American stained glass windows from the Rakow Research Library illustrate the expansion of style in the 20th century from religious storytelling to include secular and abstract designs.
East Meets West: Cross-Cultural Influences in Glassmaking in the Eighteenth and Nineteenth Centuries
November 18, 2010 – October 30, 2011
This exhibition will explore influences in glassmaking that resulted both from the cultural exchange between the East and West and from indigenous craft traditions and documents stylistic developments in Western Europe and East Asia during the early modern period.
About the Museum
The Corning Museum of Glass is home to the world's most comprehensive and celebrated collection of glass, with more than 45,000 objects reflecting 3,500 years of glassmaking history. An independent, non-profit, educational institution, the Museum is dedicated to the art, history, science, research and exhibition of glass. The Museum is open from 9:00 a.m. to 5:00 p.m. every day and from 9:00 a.m. to 8:00 p.m. in the summer. Kids and teens, 19 and under, receive free admission.
###