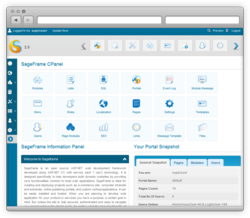 Building a website in SageFrame is as easy as posting comments in a forum.
(PRWEB) May 06, 2012
BRAINDIGIT takes great pride to introduce SageFrame 2.0 – the CMS that continues to rock the ASP.NET community, and marvel users with its sensational features since its release. SageFrame, a state-of-art CMS in ASP.NET, is a Content Management System that helps users build various-purpose web sites and applications easily and effectively. SageFrame is developed by BRAINDIGIT - an internationally acclaimed IT firm that specializes in web and mobile based applications development.
The need for a CMS that can serve as a robust foundation for any web development, and that, which eliminates, fair to say simplifies, the major concern over security and site maintenance has always been prevalent amongst web developers. This pressing need, in fact, stimulated the development of SageFrame 2.0.
One of the comments read "Building a website in SageFrame is as easy as posting comments in a forum". This may sound too praiseful, but the accolades and admirations SageFrame has been receiving from the CMS community self serve as a testimony of the quality of service SageFrame has been able to deliver its users. In this short stint of time, SageFrame has been able to cumulate thousands of downloads from various sources. In addition to that, SageFrame has been featured in many prominent websites, and technical blog sites such as CNet, Brothersoft, Softpedia, Web Resource Depot, ZDNet and many more.
What's with SageFrame 2.0?
After developing SageFrame 1.0, developers at Braindigit felt that more improved and innovative features could be possibly developed in a CMS. Therefore to accomplish such a comprehensive system, the SageFrame team went through series of rigorous research and studies to subdue the limitations and requirements felt by many CMS users. As a result, idea behind SageFrame 2.0 sparked. SageFrame 2.0 has been developed by integrating features from several prominent CMSes to offer users an all-in-one experience. Some of them include:
1. Drag drop widget.
2. Dynamic backend menu customization.
3. Improvised templating.
4. Plug and play module concept.
5. Granular privileges and many more...
That is not all. There are still a lot of unique features in SageFrame 2.0 waiting to be unraveled. Install SageFrame 2.0 and explore them, the experience will certainly be fascinating. And for users who are thinking of building a new web site or application, BINGO – what a perfect time! Download a free copy of SageFrame 2.0 from - http://www.sageframe.com and experience the change. Why not? Oh! Don't worry; SageFrame facilitates users with a "One Click Installation" option that takes off all the installation hassle, and to get one running in no time, an inclusive "Video/Text Tutorial Directory" is there for help, addressing all the common settings and configurations issues.
Don't miss out the opportunities - with SageFrame 2.0, it's huge.