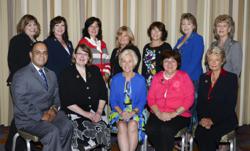 I am honored to stand with the members of our National Board in bringing the face and function of case management to public awareness. We are proud to serve in this Golden Age of Care Coordination and Case Management. -Nancy Skinner, RN-BC, CCM
Little Rock, AR (PRWEB) July 03, 2012
The Case Management Society of America, a national organization providing professional collaboration across the health care continuum to advocate for patients' wellbeing and improved health outcomes, installed its 2012-2013 Board of Directors at CMSA's 22nd Annual Conference & Expo. The conference took place at Moscone West Convention Center on June 19-22, 2012.
CMSA's 2012-2014 President is Nancy Skinner, RN-BC, CCM, from Whitwell, Tennessee, who succeeds Mary Beth Newman, MSN, RN-BC, CCP, CCM. Newman remains on the Board as Immediate Past President.
Regarding the presidential transition, Skinner remarked, "Mary Beth calls this the "Golden Age of Case Management," and I could not agree with her more!"
A true case management pioneer, Nancy was involved in the early formation of the Illinois Case Management Network (now CMSA Chicago). She has worked tirelessly to promote case management over the past 20 years, and has presented educational programs to countless CMSA chapters and other groups across the country. Her leadership has continued on the national level, having served in the CMSA President role previously from 1998-1999. Nancy is the first CMSA President to serve a second term, and also the first to serve a consecutive 2-year term in the same role from 2012-2014.
"Health care delivery in America is experiencing a revolution that requires each of us, the patient and the treatment team, to work in partnership. This partnership is focused on advancing care that balances quality and cost, desired outcomes with the ability to achieve those outcomes and places the patient at the center of all initiatives and interactions. Standing in support of the patient and advocating on behalf of that patient is the case manager," Skinner continued.
"Although the role of the case manager may not be fully understood by the American public, the case manager remains an integral member of the health care team who assists the patient to navigate the options and all components of the prescribed treatment plan while fully participating in the implementation of that plan."
Skinner began her career as a nurse working in acute care, long-term care and home health. A major milestone in her career, she developed the CM Resource Path Concept in the late 90s, a model for disease state education designed specifically for case managers. She is currently the Principal Consultant and Owner of Riverside HealthCare Consulting in Whitwell, TN.
Other members of CMSA's 2012-2013 Board of Directors include:
IMMEDIATE PAST PRESIDENT
Mary Beth Newman, MSN, RN-BC, CCP, CCM
Loveland, OH
SECRETARY
Betty Overbey, RN-BC, CRRN, CDMS, CCM, CRP, MSCC
Glen Allen, VA
TREASURER
Jose Alejandro, RN-BC, MSN, MBA, CCM, FACHE
Dallas, TX
DIRECTORS
Laura Bachrach, RN, BSN, MSL, CCM, CLL
Tempe, AZ
Connie Keene, RN, BSN, CCM, CBIS
Paw Paw, MI
Tina Kowlsen, RN, BS, CCM
Bradford, PA
Becky Perez, RN, BSN, CCM
High Ridge, MO
Carol Smith, RN-BC, MSN
Scottsdale, AZ
Cristina Walter, MS, RN-BC, CCM, CCP
Fairfield, OH
CHAIR, CHAPTER PRESIDENTS' COUNCIL
Janet Coulter, RN, MSN, MS, CCM
Maineville, OH
In anticipation of the coming year, Skinner remarked, "I am honored to stand with the members of our National Board in bringing the face and function of case management to public awareness. We are proud to serve in this Golden Age of Care Coordination and Case Management."
About the Case Management Society of America (CMSA)
Established in 1990, the Case Management Society of America is the leading non-profit association dedicated to the support and development of the profession of case management. CMSA serves more than 10,500 members, 15,000 subscribers, and 75 chapters through educational forums, networking opportunities, legislative advocacy and establishing standards to advance the profession. For more information, visit http://www.cmsa.org or follow CMSA on Twitter @CMSANational.