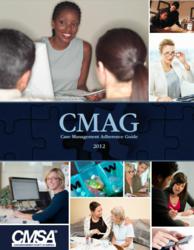 This resource presents additional concepts and strategies that may assist our patients to meet the challenges of following a patient-centered continuing care plan. − CMSA President, Nancy Skinner, RN-BC, CCM
(PRWEB) February 21, 2013
Today the Case Management Society of America (CMSA) launches the Case Management Adherence Guide 2012 (CMAG 2012), a resource designed to provide case management professionals with assessment and intervention tools to improve patient medication and treatment adherence. CMAG 2012 is the third revision of the CMAG series, which builds upon past versions to consider new models of care delivery and accountability associated with the Patient Protection and Affordable Care Act (PPACA).
CMAG 2012 reflects the evolving landscape of case management as it relates to adherence philosophy, patient engagement and various practice settings in an increasingly technological environment. Factors which may affect a patient's ability to adhere to a plan outside of standard clinical diagnoses and treatment, such as socioeconomic dynamics, are considered in CMAG 2012. The information and tools presented in this edition are intended to serve the professional care management community as the standard by which case managers can advance assistance, coaching and monitoring efforts with the goal of ultimately improving care delivery and patient outcomes.
CMSA President Nancy Skinner, RN-BC, CCM, remarked, "Advancing patient adherence and persistency through each transition of patient care is an essential component of our practices. This resource presents additional concepts and strategies that may assist our patients to meet the challenges of following a patient-centered continuing care plan. Written by case managers for case managers, this document is a vital tool for each of us."
CMSA has made medication adherence a strategic initiative since 2004, as part of its central mission to be the trusted source of resources which support and enable the professional growth of care managers. Given the key leadership role of case managers in the provision, transfer and coordination of patient information and treatment, CMSA is invested in providing educational materials like CMAG which enable case managers to be more effective in improving care quality. The two preceding versions of CMAG have proved to be a valuable resource to the community, having been downloaded over 500,000 times since its inception in 2004.
"Case/care managers work with patients and their family caregivers every day in supporting the importance of treatment adherence. CMSA is extremely pleased to release CMAG 2012 to support case/care managers in a leadership role of improving treatment and medication adherence," said Cheri Lattimer, RN, BSN, Executive Director of CMSA.
The new edition of CMAG is available on CMSA's website at http://www.cmsa.org/cmag. To ensure that the CMAG program continues as an evolving resource for case managers, CMSA is offering the digital download of CMAG 2012 at $10 for current CMSA members and $20 for nonmembers. Additional educational events and training based on CMAG 2012 will be available in the coming months.
About the Case Management Society of America (CMSA)
Established in 1990, the Case Management Society of America is the leading non-profit association dedicated to the support and development of the profession of case management. CMSA serves more than 11,000 members, 20,000 subscribers, and 75 chapters through educational forums, networking opportunities, legislative advocacy and establishing standards to advance the profession. For more information, visit http://www.cmsa.org or follow CMSA on Twitter @CMSANational.