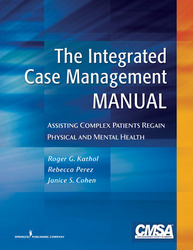 ...detangling the physical, psychological, social, and health system barriers to improvement.
Little Rock, AR (PRWEB) October 1, 2010
The Case Management Society of America is pleased to announce its Integrated Case Management (ICM) Training Program (http://www.cmsa.org/ICM), an advanced educational program designed to provide case managers coming from either medical or mental health backgrounds with the content and skills to (1) perform systematic complexity assessments, (2) develop and carry out comprehensive and coordinated physical and mental health care plans, (3) apply consistent complexity-based anchor points in specially designed ICM clinical documentation software, and (4) record ongoing clinical, functional, quality of life, satisfaction, and fiscal outcomes during the management process.
"The ICM assessment process fosters the development of an alliance between the case manager and patient/client using motivational interviewing skills," said CMSA Executive Director, Cheri Lattimer, RN, BSN. "This is done while detangling the physical, psychological, social, and health system barriers to improvement. During training, managers learn to how to alter barriers in each of these domains without the need to transfer patients/clients to other managers."
Training in ICM has been in development since 2008 by CMSA and Cartesian Solutions, Inc.™ It is, in part, based on the application of 15 years of complexity research largely performed in Europe and, in part, on the Standards of Practice for Case Management (2010 revision). To date, nearly 100 case managers have participated in beta or early official training experiences.
CMSA's decision to offer ICM came in part due to the fragmentation of today's health care and its affect on case managers. CMSA believes that one of the greatest challenges for patients with chronic medical conditions and concurrent mental health needs -- often those with the highest health service use -- is to receive coordinated care and assistance that will stabilize medical and mental health symptoms, while also addressing social and health system factors that contribute to poor outcomes.
"Because situations such as these are often aggravated by the fact that case managers with medical backgrounds do not feel competent to assist with mental health needs and vice versa, CMSA wanted to help develop a training program to allow case managers from either background to transition to a holistic assessment and assistance approach," said CMSA President, Teri Treiger, RN-C, MA, CCM, CCP. "This allows CMs to help patients with barriers to improvement in any complexity domain from case management initiation to graduation."
ICM training is open to members and non-members of CMSA and is divided into two parts. ICM Section I Training includes more than 40 hours of manual study, chapter self-test completion, and participation in four ICM webinars given over 12 weeks. If a participant misses a scheduled webinar, the material can be addressed by viewing a recorded webcast of the session.
The second component, ICM Section II Training, is a one-day, face-to-face skills implementation session in which participants will perform mock complexity assessment interviews, score IM-CAGs related to completed interviews, develop a care plan, and learn to document outcomes as patients move toward graduation. A prerequisite for participation in the second component will be completion of the first.
At the completion of both components, participants must take and pass a comprehensive test on the ICM approach to case management.
To learn more about CMSA's Integrated Case Management Training Program, please visit CMSA's website at http://www.cmsa.org/ICM.
About Case Management Society of America (CMSA)
Established in 1990, the Case Management Society of America is an international non-profit 501(c)(6) multi-disciplinary professional association dedicated to the support and advancement of the case management profession through educational forums, networking opportunities, legislative advocacy, and establishing standards to advance the profession. It is based in Little Rock, Ark., and serves more than 20,000 members/subscribers and over 73 affiliate and pending chapters. Since its inception, CMSA has been at the forefront of setting professional standards for the industry, which allows for the highest level of efficiency and integrity, as well as developing national and local leaders who are recognized for their practice and professional excellence.
For more information about CMSA, call us at (501) 225-2229 or visit our website at http://www.cmsa.org.
# # #