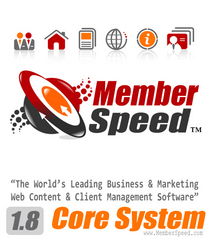 While every component of a site can be customized to deliver tailored and specific solutions for business owners, the goal was to ensure the software remained user friendly enough for even those with limited skills. Once the software is installed, managing your online business becomes as easy as opening up a word processor
Minden, NV (PRWEB) October 26, 2007
As businesses adapt to the new concepts of Web 2.0, membership and content management software has rapidly become the buzz for web development and smarter marketing. Power House Technology, LLC led the way this summer with its record breaking release of CMSInfusion, a dedicated content and client management system. Projected sales figures were smashed in June when 7 figures in orders pummeled their web servers in week 1 of launch. But owners Jeremy Gislason and Simon Hodgkinson aren't the sort of guys to sit back and bask in the glory, and they have already completed a major overall of the business, the site and the actual name of the software...
CMSInfusion is now MemberSpeed - "While sales of the software performed beyond our initial expectations, we decided to listen to our customers' right from day one. They basically told us they didn't like the name… 'MemberSpeed' just seemed so much more appropriate," explains co-creator Jeremy Gislason. "It better encapsulates the purpose of the software which is to develop membership sites quickly and enable clients with a limited knowledge of content management systems jump in and get started right away."
MemberSpeed, developed by Gislason and business partner, Simon Hodgkinson, provides a powerful platform for membership management, content management and web development without the need for extensive programming or technical knowledge…
"While every component of a site can be customized to deliver tailored and specific solutions for business owners, the goal was to ensure the software remained user friendly enough for even those with limited skills. Once the software is installed, managing your online business becomes as easy as opening up a word processor" says Hodgkinson.
While the name change clarifies the software's market position, other changes have been taking place too…"We've separated operations for MemberSpeed into a separate entity, creating a new company specifically to move development, delivery and marketing of the software forward" says Gislason. "We're not content to be one of the fastest growing companies in the sector, the goal is to have the software keep pace with the future demands of our clients and the web itself"
For more information on membership sites and their applications in Web 2.0, or the MemberSpeed Site Management Software, contact Jeremy Gislason or Simon Hodgkinson at MemberSpeed Online Help Desk
###