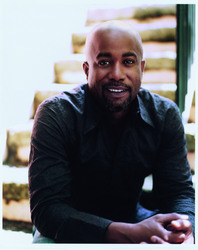 By making this a community effort, we can extend that knowledge beyond just the household and make an active lifestyle a way of life.
Nashville (Vocus) February 11, 2010
CMT ONE COUNTRY is providing media support for First Lady Michelle Obama's just announced Let's Move campaign to encourage communities, families and kids to lead healthier, more active lives. CMT has enlisted the support of Darius Rucker for targeted public service announcements to encourage the CMT audience to get active, eat healthy and learn more about the campaign at http://www.letsmove.gov.
In addition to Rucker's involvement, CMT ONE COUNTRY's commitment to Let's Move will continue throughout 2010 by highlighting the work of non-profit partner, Feeding America, in particular their work to provide nutritious meals via the BackPack Program and Kids Cafe Program. Additionally, the initiative will receive on-air support from CMT TOP 20 COUNTDOWN and CMT INSIDER.
"CMT ONE COUNTRY is pleased to join forces with First Lady Michelle Obama to encourage our viewers and their families to get active," said Lucia Folk, director of public affairs, CMT. "CMT ONE COUNTRY's goal is to motivate our viewers to better themselves and their communities through making a difference. We believe starts at home with the health and well-being of your family."
"I have three children, so fitness and health are serious concerns in our household. I've been blessed to have a wonderful wife that starts my family's healthy lifestyle initiative at home, but there are so many children out there without that guidance and encouragement," said Rucker. "By making this a community effort, we can extend that knowledge beyond just the household and make an active lifestyle a way of life."
Let's Move is comprehensive, collaborative, and community-oriented and will include strategies to address the various factors that lead to childhood obesity. It will foster collaboration among the leaders in government, medicine and science, business, education, athletics, community organizations and more. And it will take into account how life is really lived in communities across the country – encouraging, supporting and pursuing solutions that are tailored to children and families facing a wide range of challenges and life circumstances.
Darius Rucker first came to prominence as the lead vocalist and songwriter for the pop group Hootie & The Blowfish, whose 1994 debut, Cracked Rear View, sold more than 16 million copies to become one of the best-selling albums in history. In early 2007, Rucker signed with Capitol Records Nashville and has since been embraced by the country music community with his chart-topping 2008 debut, Learn To Live – an album that has produced three consecutive No. 1 singles and current Top 5 single, "History In The Making." Rucker's transition has been highly praised, with The New York Times proclaiming he has "one of the year's most vibrant country albums." Rucker's success in the country music format was recently recognized at the 43rd Annual CMA Awards when he received the Top New Artist title. Although he was awarded new artist, Rucker's philanthropic efforts began over a decade ago and have included Charleston Children's Hospital, St. Jude, City of Hope, Pattison Academy, Musicians On Call, The Special Olympics, Victory Junction Camp, and CMT One Country. For more information, please visit http://www.dariusrucker.com.
CMT ONE COUNTRY, CMT's pro-social initiative, was launched in the fall of 2005 to promote civic participation and inspire CMT viewers to take action and bring about important change in their communities. CMT ONE COUNTRY partners include Feeding America (formerly America's Second Harvest), Boys & Girls Clubs of America, Habitat for Humanity, Hands On Network and the USO (United Service Organizations), and Children's Miracle Network. Led by Advisory Board members President Jimmy Carter, Maya Angelou and General Colin Powell, whose combined service to America is legendary, CMTONECOUNTRY.com aims to offer tools to help anyone start making a difference immediately. For more information visit CMTONECOUNTRY.com.
Visit CMT's press-only Web site http://www.cmtpress.com for more information and downloadable photos on all of CMT's programming.
CMT, a unit of Viacom's MTV Networks (NYSE: VIA and VIA.B), is the leading television and digital authority on country music and entertainment, reaching more than 90 million homes in the U.S. CMT and its website, CMT.com, offer an unparalleled mix of music, news, live concerts and series and is the top resource for country music on demand. The network's digital platforms include the 24-hour music channel, CMT Pure Country, CMT Mobile and CMT VOD.
MTV Networks, a division of Viacom (NYSE: VIA, VIA.B), is one of the world's leading creators of entertainment content, with brands that engage and connect diverse audiences across television, online, mobile, games, virtual worlds and consumer products. The company's portfolio spans more than 150 television channels and 400 digital media properties worldwide, and includes MTV, VH1, CMT, Logo, Harmonix, Nickelodeon, Nick at Nite, Nick Jr., TeenNick, AddictingGames, Neopets, COMEDY CENTRAL, SPIKE, TV Land, Atom, GameTrailers and Xfire.
###