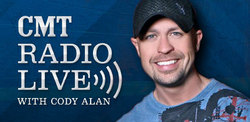 Nashville (Vocus) April 14, 2010
Hot on the heels of a recent ACM Award win, CMT RADIO and Westwood One announce a new weekend version of CMT RADIO LIVE WITH CODY ALAN available to radio stations nationwide beginning the week of May 10. CMT RADIO LIVE WITH CODY ALAN WEEKENDS, a four-hour weekly radio broadcast, will feature highlights from each week's CMT RADIO LIVE WITH CODY ALAN broadcasts and will be available throughout the weekend to interested stations.
CMT RADIO LIVE airs weeknights from 7:00 p.m. - 12:00 a.m. EST and features not only the latest country music hits along with classic favorites, but also exclusive interviews and performances, on-location event coverage and live fan interaction via call-ins, emails and instant messaging. For more information, visit http://www.cmtradiolive.com.
Since its inception, CMT RADIO LIVE WITH CODY ALAN has garnered national media attention from Billboard, PEOPLE, E!, OK! and others for Alan's in-depth artist interviews. Alan was named the 2010 National On Air Personality of the Year by the Academy of Country Music, and recently tapped as a guest columnist for COUNTRY WEEKLY.
The CMT Radio Network is a broadcasting partner to Westwood One and seeks to provide the most complete coverage of music and entertainment news available to country radio stations around the United States and has over 150 active affiliates. Stations interested in airing CMT RADIO LIVE WITH CODY ALAN WEEKEND or interested in becoming a CMT Radio Network affiliate should contact Westwood One. http://www.cmtpress.com
CMT, a unit of Viacom's MTV Networks (NYSE: VIA and VIA.B), is the leading television and digital authority on country music and Heartland entertainment, reaching more than 90 million homes in the U.S. CMT and its website, CMT.com, offer an unparalleled mix of music, news, live concerts and series and is the top resource for country music on demand. The network's digital platforms include the 24-hour music channel, CMT Pure Country, CMT Mobile and CMT VOD.
MTV Networks, a unit of Viacom, is one of the world's leading creators of programming and content across all media platforms. MTV Networks, with 137 channels worldwide, owns and operates the following television programming services - MTV: MUSIC TELEVISION, MTV2, VH1, mtvU, NICKELODEON, NICK at NITE, COMEDY CENTRAL, TV LAND, SPIKE TV, CMT, NOGGIN/THE N, VH1 CLASSIC, LOGO, MTVN INTERNATIONAL and THE DIGITAL SUITE FROM MTV NETWORKS, a package of 13 digital services, all of these networks trademarks of MTV Networks. MTV Networks connects with its audiences through its robust consumer products businesses and its more than 200 interactive properties worldwide, including online, broadband, wireless and interactive television services and also has licensing agreements, joint ventures, and syndication deals whereby all of its programming services can be seen worldwide.
Westwood One delivers more country music programming than any other radio network. In addition to CMT Radio Live, Westwood One's country music lineup includes CMT Radio Network, CMT Radio Insider, Country Countdown USA with Lon Helton, The Country 6-pack music series, America's Grand Ole Opry Weekend, Stars of Country, and more. Westwood One is also a partner of the Academy of Country Music Awards and produces a live remote broadcast from the event each year. Westwood One's country music programming airs on over 2000 stations nationwide in more than 200 markets.
Westwood One (NASDAQ: WWON) is one of the nation's largest providers of network radio programming and one of the largest domestic providers of traffic information in the U.S. Westwood One serves more than 5,000 radio and 170 TV stations in the U.S. Westwood One provides over 150 news, sports, music, talk and entertainment programs, features and live events to numerous media partners. Through its Metro Traffic business, Westwood One provides traffic reporting and local news, sports and weather to approximately 2,200 radio and TV stations. Westwood One also provides digital and other cross-platform delivery of its Network and Metro Traffic content to over 700 radio, television and newspaper affiliates.
PRESS CONTACTS:
Natasha Powell
615-335-8412
natasha.powell(at)cmt(at)com
Peter Sessa
212-641-2053
peter_sessa(at)westwoodone(dot)com
###