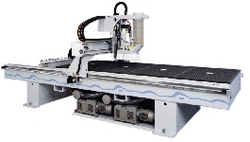 We're really looking forward to the video blogs
Grand Rapids, MI (PRWEB) July 20, 2010
Stiles Machinery, a leading manufacturing equipment, software and services company, is holding a video contest through social media to determine the winner of a Weeke Vantech 480 CNC Router for one year.
The CNC router is popular with many small and mid-sized woodworking shops. The machine is valued at over $69,000.
The video contest, conceived by Stiles Machinery, will give these small shops a chance to be creative and prove why they deserve the router. Stiles is seeking videos of all types—the genre and content will be up to the entrants.
"To our knowledge, we're the first company in our industry to do something like this, and we're excited to see what people come up with." said Stephan Waltman, VP of Sales & Marketing of Stiles Machinery.
The contest is open to any shop that could benefit from the use of a CNC Router. Interested businesses must create and submit a video to stilesmachinery.com/contest explaining or demonstrating why they should win the router.
All submitted videos will be up for public voting through YouTube and promoted through other social-media sites like Twitter and Facebook. Voting will be open until October 1, 2010, at which time the entrants will be narrowed to the top ten. Stiles will evaluate each of the finalists extensively and make a decision on the winner by October 29, 2010.
The winner of the contest will also receive a video camera, which will be used to document the year with the machine. This will give others a first-hand account of how such a machine could impact a business.
"We're really looking forward to the video blogs," said Waltman. "We know what this machine can mean to a business, but we want to see someone experience this technology on-line and see how it can improve their business."
Stiles offers a Total Production Solutions approach to manufacturing, from equipment integration and financial services to education, service and parts. Headquartered in Grand Rapids, Michigan, Stiles has regional offices in High Point and Gastonia, North Carolina; Shelton, Connecticut; Irving, Texas; and Ontario, California.
###