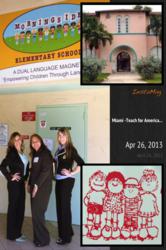 With education being one of CNLBank's main areas of focus, we knew that there had to be some way our team could have a positive impact on the students at Morningside Academy - Nancy Robin, CNLBank S. Florida President
Miami, Florida (PRWEB) May 17, 2013
Often called a multicultural mosaic, Miami-Dade is setting the bar for diversity in our country. And with great diversity comes great potential for Miami-Dade to be a launch pad for hundreds of thousands of future leaders with distinct backgrounds and perspectives.
In many cases, however, the children who grow up in the lowest income-earning areas are not prepared for the road ahead. With 93% of students economically disadvantaged, Morningside PreK-8 Academy is one of Miami-Dade's most under-privileged schools. In 2012, just 46% of the student population was performing at grade-level in math.
"These statistics are unbelievable to most," states Nancy Robin, CNLBank's South Florida President. "With education being one of CNLBank's main areas of focus, we knew that there had to be some way our team could have a positive impact on the students at Morningside Academy who are struggling right in our own backyard."
In cooperation with the national non-profit powerhouse, Teach for America, CNLBank professionals from the Coral Gables and Miami offices volunteered to teach at Morningside Academy, on April 26, 2013. Presenting to 3rd, 4th and 6th graders, CNLBank's team of volunteers met with the students to teach them how to prepare and maintain a personal budget.
"The students really enjoyed this real-life lesson," states Robin. "I think when you take the math lesson out of the classroom and help students apply the concepts to actual life situations. The principles become much more understandable and easier to comprehend."
Teach for America launched efforts in Miami-Dade in 2003 with 35 corps members. Today, with the incredible support of community partners, like CNLBank, Teach for America, Miami-Dade, has 300 corps members teaching 22,000 children living in poverty—nearly a quarter of Miami's highest-need students.
About CNLBank
CNLBank, $1.2 billion state-chartered commercial bank, is one of the largest banks headquartered in the State of Florida, offering clients an experienced relationship management team with deep roots in the communities we serve. The bank operates 16 full-service banking offices throughout the state with robust lending and depository capabilities, sophisticated treasury and property management services and excellent customer care. For more information visit CNLBank on the web at http://www.cnlbank.com.