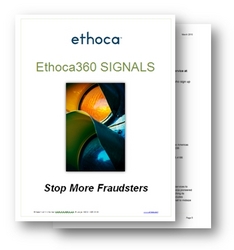 QuickStart offers a faster way to connect to the ecommerce fraud prevention service Ethoca360 Signals -- bypassing development work to implement Ethoca's direct API.
(PRWEB) July 1, 2010
Ethoca Limited, provider of Ethoca360 fraud detection services and the unique collaboration engine that powers the Global Fraud Alliance, has initiated QuickStart, a simple way for merchants to quickly start using Ethoca360's Signals service with reduced development effort.
Ethoca360 Signals evaluates ecommerce transaction risk factors that indicate potential for fraud and displays the results as a set of intuitively color-coded 'Signals'. Signals are created by breaking down a transaction or account application into raw data elements to compare them against a global repository of payment experiences contributed by members of the Global Fraud Alliance. When matches are found among the more than 500 million records in the GFA database, rules are triggered that create red, yellow or green signals which indicate high risk (probable fraud), medium risk (investigate further), or very low risk (accept order).
QuickStart offers a faster and easier way for merchants to connect to Ethoca360 Signals in real time, bypassing the development work necessary to implement Ethoca's direct API.
There are two key pieces to QuickStart: Signal Request, and Signal Response.

Signal Request: Instead of the merchant subscribing to Ethoca's API, Ethoca subscribes to the APIs already used by the merchant to send data to their payment or fraud service provider. Ethoca evaluates whatever elements are contained in this request and generates Signals based on the matches it finds in the GFA database.
Signal Response: Ethoca passes the Signals back to the merchant in the form of a push-based email and/or portal-based alerts. It requires no changes or addition to the merchant's existing tools.
Although in the longer term, merchants may desire to connect to Ethoca's API to pass and receive more information and benefit from the full range of Signals available, QuickStart eliminates the wait time to schedule IT development resources, and enables access to the benefits of Ethoca's real-time service in days, rather than weeks or months, at no additional cost to the merchant. QuickStart is also available for use by payment and fraud service providers.
QuickStart is available for either the full Ethoca360 Signals product, or the free version, Ethoca360 Negative Signals, which does not match against the positive data.
Ethoca360 Signals is designed to be an additive service, compatible with all other fraud tools and processes in use, enabling improved productivity and accuracy of fraud decisioning no matter how you do fraud-screening today. QuickStart speeds implementation, eliminating most of the effort and cost to get started right away by requiring virtually no changes to existing systems or processes.
About Ethoca
With offices in Dublin, Toronto, and New York, Ethoca provides anti-fraud services to businesses taking orders by credit card, eCheck and other forms of payments online, by fax, through catalogs and by telephone. Ethoca pioneered and mastered the concept of collaborative fraud management to fight online payment fraud. Learn more at ethoca.com.
# # #