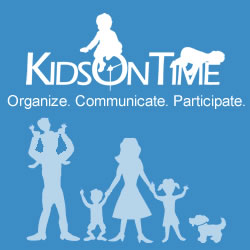 A unified parental front regarding schoolwork will be formed
Portland, ME (PRWEB) December 13, 2012
Kids On Time Inc. announced today the launch of Kids On Time Schoolwork Planner, a new creative feature to their suite of co-parenting tools. Research shows that communications regarding homework assignments, exams and other schoolwork are some of the most significant sources of stress in any family. Furthermore, this stress is multiplied in a family with co-parents and shared custody. Getting your kids to do their homework can be a monumental task. The schoolwork planner developed by KidsOnTime.com better informs both parents as to whom the teachers are, what the assignments are, when tests are being administered. The one stop portal provides access to each of the kid's schools, their teachers contact information, and if the teacher has an individual web-page, access to that as well. Regardless of custody schedules, each parent will be in tune with homework, tests etc. and have access to all school information. A unified parental front regarding schoolwork will be formed. Keeping in-tune with assignments further shows your kids that you are involved with their daily lives, and that school is important.
Personal experience with the challenges of staying on top of homework assignments was Kids On Time President Anne Sleeman's motivation for creating the schoolwork portal. "When co-parents have joint custody of their children, both parents may not be fully aware of who the teachers are, what they teach and what homework is due when" says Sleeman. "This feature affords a place for co-parents to interact without having to personally discuss school related issues. The Schoolwork Planner automatically posts due dates on the shared Family Calendar and has a feature for completed home work so that both parents know when all assignments are completed." The Schoolwork Planner helps to make the Kids On Time product suite better, more user friendly and more pertinent to parents daily lives" The Schoolwork Planner, coupled with the other features of the Kids On Time co-parenting product suite are sure to make the lives of all who use the application just a little bit easier.
Kids On Time connects co-parenting couples through the use of technology to help them communicate better and more effectively for the purpose of raising their children. Kids On Time is currently available as a web based application. Mobile and tablet applications are in beta and are slated for release later this month. With Kids on Time un-paralleled quality application, management believes that the application will soon become the "must have" app for anyone in a co-parenting situation.
About Kids On Time, Inc.
Kids On Time, Inc. is a software company with offices in Portland Maine and Phoenix Arizona. Kids On Time offers a suite of web-based applications for co-parents and blended families. The applications help families in a multitude of ways. At the focal point of their application are the children affected by divorce. Their application assures that the communications between co-parents will be less combative and improved overall. The family, as a unit, will find that they become further organized. Parents, being better informed, will have greater opportunity to increase their participation in the lives of their children. At kids on time, they have created their suite of products to work seamlessly together, to eliminate a lot of the stress when communicating with co-parents, and ultimately, to make life just a little bit easier.
Visit online at http://www.kidsontime.com or http://www.facebook.com/mykidsontime
To contact kids on time directly call 1-888-603-5160 or email : media(at)kidsontime.com