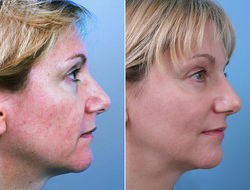 Patients don't have to withstand agony to get the benefits of fractional CO2 laser. And with the higher patient comfort the MiXto offers, I can treat more effectively at higher energy and coverage percentages for a better result
Laguna Niguel, CA (PRWEB) December 11, 2009
Skin resurfacing lasers can cause quite a bit of discomfort. Some are quite painful and require medication or anesthesia. Dr. Lenore Sikorski has chosen a laser with a difference. The MiXto fractional laser utilizes a very unique computerized delivery of laser pulses to combat the problem of patient discomfort.
A Board Certified Dermatologist and Cosmetic Surgeon in Laguna Niguel, Ca., Dr. Sikorski explains why some lasers are more painful than others. "Typically the pain comes from heat buildup in the skin. Topical anesthesia only has a certain amount of effect and when heat buildup occurs, patients have to withstand the increasing sensations. For those patients who have a normal pain threshold, that factor makes a huge difference in tolerating a complete treatment."
MiXto has a scattered pattern that prevents the side by side or continuous adjacent laser pulse. The pulses actually "jump around" so that the first section of treated skin has a chance to release some of the heat before a further pulse is placed next to it. This unique pattern lessens heat buildup and lessens pain. "Patients don't have to withstand agony to get the benefits of fractional laser. And with the higher patient comfort the MiXto offers, I can treat more effectively at higher coverage rates for a better result," the doctor added.
MiXto is a fractional CO2 laser with effects very similar to ActiveFX , Fraxel Repair, Pixel and other fractionated laser systems. Patients have been very pleased with the textural and tone qualities of their skin following the MiXto laser treatment. Because there is intact untreated skin surrounding the microdots of treated skin, fractional laser is readily used for off face areas such as the neck, chest, arms or hands.
Dr. Lenore Sikorski is the medical director of Natural Image OC, a dual dermatology and cosmetic surgery practice in Laguna Niguel, Ca. She is Board Certified in both Dermatology and Cosmetic Surgery and is an associate clinical professor at UC Irvine's Department of Dermatology.
Visit the practice website at http://www.DrSikorski.com. Contact (949) 448 0487
# # #