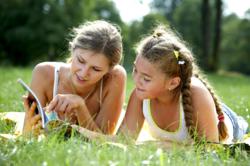 I've been looking for a way to impart life lessons to my kids - this is an amazing program.
- Wendy, mother of two
Austin, Texas (PRWEB) January 05, 2012
For many parents one of their top New Year's Resolutions is to spend more meaningful time with their kids. Adventures in Wisdom™ announces both a free lesson and a 20% discount on its "life coaching program for kids" to help parents do just that.
With this fun program, parents team with "Wyatt the Wise Wizard" to help their kids (ages 6-12) learn over 25 critical personal development skills for creating happy fulfilling lives. Each skill is taught through a creative short story (27 stories in all) and activities enable kids to experience the skills firsthand. It's a great way for parents to "connect with their kids," share their wisdom, and become a trusted advisor in their children's lives.
With the program kids learn how to develop a mindset for happiness and success; handle peer pressure; think for themselves and make good decisions; move through fear; overcome mistakes and failure; live life with intention and achieve their goals; build self-confidence; and create powerful self-esteem that doesn't rise and fall with the ups and downs of life.
"Parents are the perfect people to share this program with their kids," said Renaye Thornborrow, author of the Adventures in Wisdom program. "The program provides step-by-step lessons for 'coaching their kids' and provides a great platform for initiating meaningful conversations. In just 15 to 30 minutes, kids will learn skills that will last them a lifetime."
Parents can go to http://adventuresinwisdom.com/resources-free-gifts/# to download a free lesson. They can also go to http://adventuresinwisdom.com/programs-short-description/ and enter "coach-my-kids" at checkout to receive their 20% discount before January 20, 2012!
About Adventures in Wisdom
Based in Austin, Texas, Adventures in Wisdom is a breakthrough life coaching program for kids that uses short stories and activities to teach children ages 6-12 how to develop powerful self-esteem and self-confidence; achieve their goals; handle challenges such as fear, failure, and peer pressure; and create happy fulfilling lives. Kids learn over 25 personal development skills via skill books or audio programs that can be completed while at home or in the car. For more information call 860-580-WISE or visit http://www.AdventuresInWisdom.com.
# # #