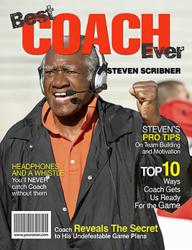 I designed a cover as a coach's gift. What an amazing inexpensive keepsake. […] We had each of the boys from the team sign it. Will definitely design and order again.
Wilton, CT (PRWEB) October 30, 2012
At the end of each sports season, parents often band together to contribute to a group gift to thank the coach(es) of their children's sports teams. Affordability is key but parents are also looking for a coach's gift idea that thanks the coach and at the same time is a keepsake of the team and just completed season.
YourCover offers a completely personalized gift that covers all the bases required by parents. The Best Coach magazine cover includes a personal photo of the coach along with customized headlines all about the team, stats, season and special memories. Each magazine cover is as unique as the coach starring on the front cover.
Parents simply upload the photo and use the online magazine cover generator to personalize the headlines. Design options include a choice of fonts, colors and size. Other fake magazine cover titles include sport specific titles for soccer, football and track as well as a "Champions" magazine cover.
If there are multiple coaches, parents can create a magazine cover for one coach and then duplicate it and replace the photo and name information for each additional coach. This is also a great option for creating magazine covers for each team member as an end of season keepsake.
The magazine covers are available instantly upon purchase as digital files for self-printing (a great last minute gift option). Or for those with more lead time, YourCover can print and frame the magazine covers for shipment.
YourCover has been providing personalized magazine cover gifts since 2000 and is based in Wilton, CT. YourCover has shipped to all 50 states and over 30 countries around the world.