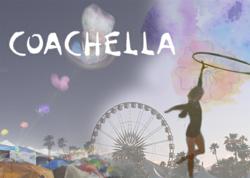 Blur, Red Hot Chili Peppers, The Stone Roses, Lou Reed, Phoenix, The XX
Los Angeles, CA (PRWEB) January 30, 2013
A weekend of great music awaits concert-goers in Coachella Music Festival 2013. Now on its 14th iteration, Coachella fest brings together some of the world's greatest bands, musicians and artists to showcase their craft and music to a new generation of listeners. From punk rock and acoustic, to rap and electric, the genres featured in the event offer a lot of a variety- there's bound to be something for everyone.
Coachella Tickets: http://www.doremitickets.com/Concerts-Tickets/Festival-Tour/Coachella-Tickets
The three-day event, which attracts thousands of music lovers from all over the globe, will be split into two weekends this year: April 12-14 and 19-21. Due to the large crowds and increasing number of people that attend Coachella fest every year, this kind of scheduling is necessary to accommodate everybody.
Goldenvoice, the organizers behind Coachella Fest 2013, have recently announced the official Coachella lineup for this year on their Twitter account. Blur, Red Hot Chili Peppers, The Stone Roses, Lou Reed, Phoenix, The XX, and Yeah Yeah Yeahs are some of the major acts that will headline during the event. Other bands include Modest Mouse, Grizzly Bear, Franz Ferdinand, Postal Service, Vampire Weekend, Wu-Tang Clan and the Social Distortion.
The festival is known to take both established bands and up-and-coming groups to the stage; famous musicians like Prince, Madonna, Paul McCartney, Bon Iver, Kanye West, Dr. Dre, Snoop Dogg and bands like Rage Against the Machine, Oasis, Nine Inch Nails, The White Stripes, Gorillaz, and The Black Keys are some of the festival's most celebrated acts.
There are different kinds of passes that are available for purchase. A general entrance pass gives concert-goers access to the camping grounds, venue, and parking lots (a shuttle pass is sometimes included in the deal), while a VIP pass allows people to use facilities (like comfier couches, shaded lounge areas, food and drink concessionaires) in the VIP area. It is highly recommended that people buy concert tickets and passes early. Those who have bought tickets for the first weekend slot often have lots of privileges (like car camping passes, in and out driving privileges).
Doremitickets.com #1 Source for Coachella Music Festival Tickets Secure Website, Money Back Guarantee. Doremitickets.com is a retail website founded in 2009. Since launching in 2009, our website has helped connect thousands of live entertainment fans to the vast network of ticket brokers that list tickets on the doremitickets® Online Exchange. These professional ticket brokers offer more than 7.5 Million event tickets on our exchange every day.
Contact:
John Cruz
Email: info(at)doremitickets(dot)net
Website: http://www.doremitickets.com