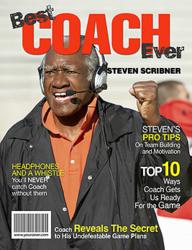 I designed a cover as a coach's gift. What an amazing inexpensive keepsake.
Wilton, CT (PRWEB) January 30, 2013
The end of the winter sports seasons is quickly approaching. Whether the sport is basketball, wrestling, indoor track or skiing, YourCover offers an affordable and quickly created gift that is completely unique to a particular coach.
Using the YourCover online tool, team parents make a personalized magazine cover starring their child's coach. The "Best Coach" magazine cover features the coach's photo plus customized headlines that include the coach's names, the team's name as well as important stats and special memories of the just completed season.
Finding a unique coach's gift that will be appreciated can be a daunting challenge especially when limited budgets are factored in. Giving a gift that captures the appreciation of the team and parents and that also evokes fond memories of the season can be difficult to find. The personalized fake magazine covers at YourCover fit all the criteria.
The coach's magazine cover gift can be purchased in several different ways. The photo file download is the option to consider for those who need a last minute coach's gift or who want to print numerous copies of the same magazine cover. The image file of the design is instantly delivered on the order confirmation page - this option is the perfect solution when the coach's gift is needed super quickly.
Additional product options for those with more time include a magazine cover photo print with optional frame. YourCover prints the magazine cover on super high quality glossy photo paper and offers four frame choices that work for any budget. Typical processing time is 1 day and shipping varies from 1 - 5 days. Shoppers can also choose to have their coach's fake magazine cover printed on a poster, t-shirt, mug or mouse pad, but the processing time is a bit more for these products at 3 days.
Whether choosing the Best Coach magazine cover or using the blank magazine cover template to create a custom title, the parents, team and coaches will all agree that this season's gift was as unique and special as the coach starring on the front cover.