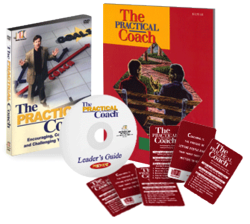 We have received many success stories from HR Managers who have purchased corporate coaching training videos from us
Houston, TX (PRWEB) November 16, 2012
Carlton's Training Solutions, a leader in corporate training videos, has announced that they are releasing additional coaching videos for sale on their website. Corporate training videos have risen in popularity in the last 20 years with the advancement of online training methods and access types. With an increase in the number of top coaching keynote speakers signing on to film, and making them available on video, Carlton's has greatly increased their inventory of top coaching training videos for their worldwide clientele.
Carlton's has been supplying a large selection of corporate training programs, DVD's, books, and CD's covering a wide spectrum of topics for many years. Corporate coaching videos and training programs is one of the most popular categories available. With training material from iconic speaker Dewitt Jones and training titles like The Practical Coach, it's not a surprise that Carlton's has the titles that human resource directors need to train their teams.
The Practical Coach is available on DVD and contains a workbook for participants to use. This title offers sensible advice on how to care about team members and to communicate to a team how their top performance is important to the entire organization. Coaching is a fundamental requirement of all leaders and managers. The skill allows one to not just impact and get the most out of any employee, but the exponetial power of that employee affecting others in a powerful way. Utilizing the workbook allows the management team to review and practice what was taught in the lesson. Carlton's Training Solutions only offers quality training videos from Dewitt Jones and other top coaching speakers like Lou Holtz among others.
"We have received many success stories from HR Managers who have purchased corporate coaching training videos from us" said Matthew Goldman of Carlton's Training Solutions.
About Carlton's Training Solutions
Carlton's Training Solutions has been serving the corporate world for thirteen years and always acquires the top corporate coaching videos that are in demand in the industry. Their corporate training programs are used by a wide variety of industries, including retail, industrial, government, hospitals, healthcare, human resources training and more. Carlton's carries titles by all of the training industry leaders such as Bob Farrell, Lou Holtz, Joel Barker, Tom Peters, Ben Zander, and Dewitt Jones. To learn more about Carlton's Training Solutions and all coaching training videos visit them at http://carltonstraining.com