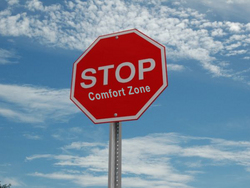 Funnily enough you can trust that by announcing this workshop I am outside my own comfort zone
(PRWeb UK) February 9, 2011
If you are tired of waking up to the same old routine and want to make changes in your personal or professional life, fulfill your ambitions or try something completely new and exhilarating, then coaching could be just the boost you need.
Red Elephant Coaching will be launching a series of exciting new half-day workshops, taking you 'Beyond Your Comfort Zone'. These hugely successful workshops will lead you to confidently step outside your self-created boundaries to make the changes you have been waiting for. The workshops will be run by Sally Denn, owner of Red Elephant Coaching, and her mentoring partner, London-based Coach Bonnie Rasmussen.
"Funnily enough you can trust that by announcing this workshop I am outside my own comfort zone," says Bonnie. "But it won't stop me doing it because I refuse to let my fears and doubts run the show."
'Beyond Your Comfort Zone' is designed for people who feel the time has come to step out of their comfort zone, to overcome the worries of perceived risks and create new and different behaviours or paths in any area of life, whether it's in relation to work, relationships, money, personal development or social life.
"Each workshop is open to everyone," says Sally. "It's a chance to see just how much the coaching process can help you change your life – expect to leave with plenty of insights and ideas to tickle your brain and get you excited about the opportunities lying ahead."
'Beyond Your Comfort Zone' with Sally Denn and Bonnie Rasmussen will be held on:
Tuesday, 29 March 2011, Colchester Weston Homes Stadium 9.30am to 12.30pm
Saturday, 2 April, Court Farm, Brantham, Suffolk 9.30am to 12.30pm
The cost is just £65+VAT per person. For more details or to reserve your space telephone 01206 243779 or contact Sally at Red Elephant Coaching
###