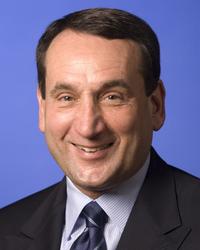 The new site, which is powered by WordPress has grown to more than 300 pages
Delray Beach, FL (PRWEB) August 18, 2009
Mike Krzyzewski, a leader on and off the basketball court, invites his fans to follow him online to his newly redesigned website, CoachK.com. The new site makes it easier -- and more fun -- to find out, instantly, what's happening with Duke University's legendary basketball coach.
The cleaner, more modern look of the website allows fans to click through Coach K's amazing 29-year career as Duke's top coach. Tab through his bestselling books, his words of inspiration, his feats, his coaching record, and his work in the community.
Also featured is Krzyzewski's new role with the USA National Men's Basketball Team. Read the latest Coach K news, find out about upcoming events, or order Krzyzewski's coaching DVDs.
The new website was redesigned by Jeff Klein, president of Power Play Marketing, a web design and internet marketing company based in Delray Beach, FL. Klein also designed Krzyzewski's previous website in 2004. The new site takes advantage of advances in web technology, such as automated content management and site navigation, to deliver a better user experience.
"I worked closely with the Duke Athletic Department to develop the site," Klein said. "I am thrilled with the result."
Check out some of these new website features:

Rotating flash banner ad for featured stories
"Share Your Story" feature allows fans to share their Coach K stories
Site search
Social bookmarking icons to promote sharing of information
Dynamic menus and site navigation
Many other back-end enhancements
"The new site, which is powered by WordPress has grown to more than 300 pages," Klein said. "I needed a better, more scalable way to manage the site, while also providing new functionality to the users."
Klein said the site has grown to illustrate the many sides of Krzyzewski. "Coach K is involved in so many different things beyond Duke, including USA Basketball, the Emily K Center, public speaking, and community causes," Klein said. "CoachK.com provides a way for fans to learn about all of them online."
###