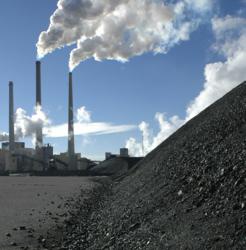 Although industry has claimed that fly ash is "neither toxic nor poisonous," this is disputed.
North Billerica, MA (PRWEB) August 17, 2011
When viewing the white billowy smoke coming out of a coal fired power plant, it is easy to assume that it is a harmless vapor. Even if one has information that this smoke is harmful, the thought is that it goes so high up in the atmosphere, that it would never harm those that actually can see the plume. However, contained within this smoke are spherical glass-like particles, known as fly ash, which are too small to see with the eye and which lands within a mile or less from the smoke stack. Although industry has claimed that fly ash is "neither toxic nor poisonous," this is disputed. These particles have been linked with lung damage, and mostly affect children and the elderly.
By using a combination of Polarizing Light Microscopy (PLM) and Scanning Electron Microscopy (SEM) with an Elemental Dispersive Spectrometer (EDS), it becomes very easy to characterize or fingerprint these glass-like particles as coming from the coal fired power plant. Thus, the homeowner living within a mile downwind of the power plant in effect becomes the "canary in the coal mine" in helping to monitor whether or not adequate pollution controls are in place to minimize the total amount of particle pollution. By simply taking a swipe of the side of their house, with a lint free cloth, a homeowner can submit a sample for analysis.
In an effort to educate those living in close proximity to coal fired power plants, SEMTech Solutions has recently updated its website with a coal ash image gallery for those interested to see what these fly ash particles actually look like. Each different particle classification in the gallery has a PLM, SEM, and EDS spectrum associated with it. The Fly Ash that comes out of the smoke stack is only one type of classification we typically analyze; other classifications we see from soil samples are Coal particles, Coal Ash, Wood Ash, Oil Soot, and Coal Tar.
In addition to the image gallery, there is also a new coal and fly ash information section added on the website that highlights the different dangers to the air, water, and soil which coal fired power plants are responsible for.
For further information on the contents of our newly designed website, or questions on how to correctly prepare a sample for analysis from your home's siding, please contact us through the website or directly via email or phone.
About SEMTech Solutions' Analytical Laboratory:
SEMTech Solutions Analytical Laboratories provides advanced analytical, research and developmental support to a wide array of industrial, consulting, governmental, academic, biomedical, pharmaceutical, commercial and residential markets. We utilize FE-SEMs, EDS, and Optical Microscopy for materials testing, identification, technical problem solving, and failure analysis. With more than 25 years of electron microscopy experience, we understand the potential and power that lie within materials analysis. As your trusted and valued partner, we will help take your analysis to the next level with precision, accuracy, responsiveness, and cost effective solutions.
###