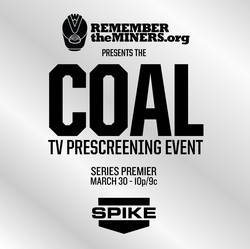 "COAL" details the extreme conditions and lives of the people in this profession, which is an integral part of the American economy and the lifeblood of communities across the U.S. and the world.
(PRWEB) March 8, 2011
RememberTheMiners.org (RTM) is pleased to announce a partnership with Spike TV to support the launch of the new documentary-reality series "COAL." RTM and Spike share the goal of honoring hard working men and women who sacrifice everyday to provide comfort and freedom through coal mining. These pre-screening events, which are free of admission charge, will take place in the heart of coal country and will allow fans, local communities and the media to get an advance screening of "COAL" which makes its World Premiere on Spike Wednesday, March 30 at 10PM/9c.
"COAL" comes to Spike from Thom Beers' Original Productions, a FremantleMedia Company ("Deadliest Catch," "Ice Road Truckers" and "Ax Men"). In the vein of Beers' other successful series, "COAL" details the extreme conditions and lives of the people in this profession, which is an integral part of the American economy and the lifeblood of communities across the U.S. and the world.
"COAL" focuses on the operations of a single mine, Cobalt Coal, located in the small town of Big Sandy, WV. Cobalt is a metallurgical mine and the coal mined here is used primarily for making steel. This type of mining requires they enter the bottom of a mountain horizontally and cut channels through the rock that measures a mere 36 to 48 inches in height. It is within this cramped, claustrophobic environment more than 600 feet into the mountain that our life and death drama unfolds.
The series centers on co-owners of the mine Mike Crowder and Tom Roberts and focuses on several members of the mine's crew, which has more than 40 machine operators, foremen, electricians, shovel haulers and bolt operators, including some multigenerational families of miners who work side-by-side at the mine.
Cobalt Coal management faces pressure every minute of every day not only to keep the mine up and running, but also to keep their workers safe in a highly combustible environment where one wrong move could prove deadly. Every aspect of the job will be covered, from the dangers behind the super-charged mining process, to the well-publicized daily dangers of working in the dark recesses of the earth's crust in a traditional underground mine and the lengths to which the mine goes in order to ensure worker safety to the sense of accomplishment and pride in finally bringing coal to the surface.
RememberTheMiners.org was formed in 2010 to provide a national platform to shine a light on the hard work, dedication and freedom that miners provide every day. RTM has gained support through grassroots participation and by creating events/programs in NASCAR, NCAA sports, and local festivals/concerts. To help kick off this new series, SpikeTV and RTM will be hosting a series of premier events in Kentucky, Pennsylvania, and West Virginia.
Spike TV is available in 99.4 million homes and is a division of MTV Networks. A unit of VIACOM, MTV Networks is one of the world's leading creators of programming and content across all media platforms. Spike TV's Internet address is http://www.spike.com and for up-to-the-minute and archival press information and photographs, visit Spike's press website at http://www.spike.com/press. Follow us on Twitter @SpikeTVPR for the latest in breaking news updates, behind-the-scenes information and photos. For more information on Spike TV's series "COAL," visit http://coal.spike.com
For information on RTM Events and exclusive video content, visit http://remembertheminers.org/
The Schedule of "COAL" events detail listed below.
Special "COAL" Pre-Screening Events:
Tuesday, March 22nd: East Kentucky Expo Center: 5:30pm – 8pm: http://www.eastkyexpo.com/
Reserve your tickets by visiting: http://www.remembertheminers.org/pikeville-rsvp/
The Eastern Kentucky Exposition Center, defines downtown entertainment excellence! The Expo Center is a 7,000 seat arena in the heart of Eastern Kentucky, featuring over 5,000 sq. ft. of ballroom space. The arena offers full rigging and stage equipment, Daktronic display capabilities, easy load in and load out, ticket office and on-site ticketing system, as well as a full line catering department. Acts such as Sugarland, Gary Allan, Carrie Underwood, Hank Williams Jr, Journey and more have played thereto "sold out" crowds! The Eastern Kentucky Exposition Center operates normal business hours of Monday – Friday 9-5, hosting events in the evenings, and weekends. Tickets to their events can be purchased through ticketmaster.com, or through our Appalachian Wireless Box Office. The Eastern Kentucky Expo Center, just recently celebrated its 5th Anniversary.
Wednesday, March 23rd: Waterfront Place Hotel: 6pm – 8pm: http://www.waterfrontplacehotel.com/
Reserve your tickets by visiting: http://www.remembertheminers.org/morgantown-rsvp/
Overlooking the picturesque Monongahela River, the Waterfront Place Hotel offers an escape that is both close to nature and easily accessible to downtown Morgantown. The unique location in the Wharf District, inviting atmosphere, and upstanding service combine to make this the ideal West Virginia hotel for a relaxing getaway, important business trip, or much-anticipated visit to your alma mater. Located just a short distance to downtown Morgantown, the venerated West Virginia University, spectacular golf courses, a variety of outdoor activities, and the scenic Rail-Trails, the beautiful Waterfront Place Hotel in Morgantown, WV is the ideal hotel destination for both business and leisure travelers.
Thursday, March 24th: Washington & Jefferson College: 6pm – 8pm: http://www.washjeff.edu/
Reserve your tickets by visiting: http://www.remembertheminers.org/washington-rsvp/
Founded in 1781 and located about 30 miles south of Pittsburgh, Pennsylvania, Washington & Jefferson College is one of the nation's oldest and most distinguished co-ed, four-year liberal arts colleges for undergraduate students. The College's mission is to graduate men and women of uncommon integrity, competence, and maturity who are effective lifelong learners and responsible citizens, and who are prepared to contribute substantially to the world in which they live. To this end, Washington & Jefferson College promotes the development of the skills, knowledge, personal qualities, and worldview that characterize a well-educated person. All classes are taught by master teachers who are caring mentors and advisors, and opportunities abound for internships, study-abroad programs, student activities, athletics, and volunteer service.
Exclusive Media Screenings of "COAL" and access to production team will occur at 1PM on event days.
For media credentials, please contact Todd Mercer -- 703.615.2994, tmercer(at)playdsm(dot)com
For additional information, visit: http://www.remembertheminers.org
Event Contact: Todd Mercer – 703.615.2994 tmercer(at)playdsm(dot)com
Local Media Involvement: Jason Solomonson – 704.807.4312 jsolomonson(at)playdsm(dot)com
SPIKE TV and Interview Requests: Debra Fazio-Rutt – 212.767.8649 debraa(dot)fazio(at)mtvstaff(dot)com
###