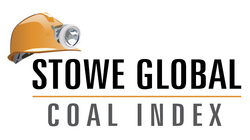 New York (PRWEB) June 11, 2008
The Stowe Global Coal Index (TICKER: COAL) will add two new stocks to the index, effective 6:00 PM (EST) Sunday, June 22.
The two additions are New Hope Corp. Ltd. (NHC AU) and Whitehaven Coal Ltd. (WHC AU).
A complete list of constituents and weights for the reconstituted index will be posted on the Stowe Global Coal Index web site on Monday, June 23. (http://stowe.snetglobalindexes.com/about_the_indexes.php)
The Stowe Global Coal Index is a modified capitalization-weighted, float adjusted index of 40 of the most prominent pure-play coal industry stocks in the world. To be included in the COAL index stocks must pass multiple screens, including for capitalization, float, exchange listing, share price and turnover.
Detailed information, including constituent data, rules and price information, on the Stowe Global Coal Index is available at http://www.stowecoalindex.com . Data is also available through most vendors of financial data.
Index: Stowe Global Coal Index (USD)
Ticker: COAL
Index: Stowe Global Coal Index (EUR)
Ticker: COALE
###