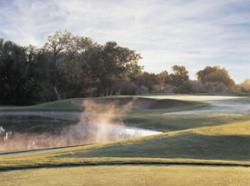 Golf at Coal Creek Golf Course this Labor Day weekend and support our Military and their families.
Louisville, CO (PRWEB) August 29, 2012
Coal Creek Golf Course will once again participate in the Annual Patriot Golf Day Weekend, a joint initiative of The PGA of America and the United States Golf Association. Coal Creek Golf Course golfers will have the opportunity to donate an additional $1 or more to benefit the Folds of Honor Foundation, an organization which provides post-secondary educational scholarships for children and spouses of military service men and women killed or disabled while serving our great nation.
"We have participated with the Patriot Golf Day program since it began in 2007 because it's a cause we believe strongly in and feel it deserves our attention as a nation," says David Clifton, Head Golf Professional at Coal Creek Golf Course, "Labor Day weekend is generally treated as a celebration that marks the end of summer, but it's also an opportunity to honor these individuals both past and present."
Through events across the country since 2007, PGA Professionals have helped raise more than $8.6 million, allowing the Folds of Honor Foundation to award more than 2,000 post-secondary educational scholarships.
Come out and support our troops, book your tee time for this Labor Day weekend, please visit CoalCreekGolf.com or call the Golf Shop at 303.666.7888.
About Coal Creek Golf Course
Coal Creek Golf Course was designed by renowned architect Dick Phelps and offers special rates for Louisville residents. Among its accolades, the course was voted in the Top 100 Courses for Women in 1999 for Golf for Women Magazine. Coal Creek Golf Course is owned by the City of Louisville. For additional information about Coal Creek Golf Course, visit their web site at coalcreekgolf.com or call 303.666.7888.
About Western Golf Properties
As problem solvers and reputation builders, Western Golf Properties has been at the forefront of developing and managing top golf facilities. Their experience working with more than 100 of the country's most elite Clubs provides the Corporate team with great insight into smart business practices and operational efficiencies which result in quality conditioning, exceptional guest service and desired financial goals. For more information, please visit wgolfp.com or call 949.417.3251.