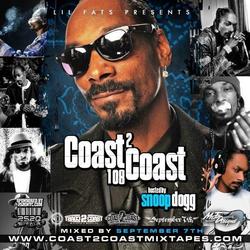 Snoop is a legend and his new album is incredible so to work with him and help promote it is an honor for us. Our own Coast 2 Coast DJ September 7th from Cali Untouchables did a phenomenal job on the mix and Snoop was a great host so overall the mixtape c
Los Angeles, CA (PRWEB) December 23, 2009
West coast rap legend Snoop Dogg returns to the music scene with his new release, Malice in Wonderland. To help promote the release Snoop has teamed with Coast 2 Coast Mixtapes to bring you Coast 2 Coast Mixtape Vol. 74 – 108 - Hosted by Snoop Dogg. As expected, Coast 2 Coast Mixtapes will bring you new and exclusive music from not only Snoop Dogg and other major celebrities in the music industry, but upcoming Independent Artists as well. The mixtape is available for free download from Coast 2 Coast Mixtapes at http://www.coast2coastmixtapes.com
The mixtape features new and exclusive music from Snoop Dogg, Busta Rhymes, Fat Joe, Lloyd Banks, Ras Kass, Styles P, Crooked I, Redrum 781, Dope Daddy, Xzibit, Joell Ortiz, Cory Gunz, Kendrick Lamar, Wale, Raekwon, EDI, George Hodos, Lady V, KV, Big Pimpin, Hith, Floyd Bocox, Tey Martel, Young Money, Lil Wayne, Short Dawg, Drake, Duece D, 40 Glocc, Kurupt, The Raskal, Knocturnal, Elliot Burns, The Game, Lil Ole P, MC Eight, Dujon, Mazlo, Fam Clik, LephT & More!
Successful mixtape DJ, September 7th, hails from Las Vegas Nevada and is part of the legendary Cali Untouchables crew that includes DJ Warrior as well as the Coast 2 Coast DJ Coalition. September 7th mixed Coast 2 Coast Vol. 108 and contributed an exclusive, unreleased remix of the new Snoop Dogg cut, "I Wanna Rock" off of the Malice in Wonderland release. The exclusive September 7th remix features Snoop Dogg, Busta Rhymes, Fat Joe, Lloyd Banks, Ras Kass, Styles P and Crooked I. Find more information on the Coast 2 Coast DJs at http://www.coast2coastmixtapedjs.com
"Having Snoop Dogg as the host of Coast 2 Coast Vol. 108 is a great close out to 2009," explains Lil' Fats, Owner/CEO of Coast 2 Coast Mixtapes, "Snoop is a legend and his new album is incredible so to work with him and help promote it is an honor for us. Our own Coast 2 Coast DJ September 7th from Cali Untouchables did a phenomenal job on the mix and Snoop was a great host so overall the mixtape could not have came out better."
The Snoop Dogg release Malice in Wonderland is available at retailers and iTunes now. The album was released by Doggy Style/Priority Records. Find more information at http://www.snoopdogg.com
For additional information on the news that is the subject of this release (or for a sample, copy or demo), contact Nicholas Hiersche or visit http://www.coast2coastmixtapes.com
About Coast 2 Coast Mixtapes:
Coast 2 Coast Mixtapes is a music marketing company that combines the biggest names in Urban music with upcoming Indie artists to create one of a kind promotional mixtapes. Coast 2 Coast Mixtapes are the most downloaded mixtapes in the world and also have a physical presence in over 60 countries.
###