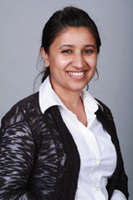 St. Augustine, FL (Vocus) November 29, 2010
Coast Dental recently welcomed Dr. Sonam Hasija to the Anastasia Island practice and added evening hours to make it easier and more convenient for patients to fit a dental appointment into their busy schedule. The practice is now open until 7 p.m. on Tuesdays and Thursdays. To schedule an appointment, call (904) 471-3291 or visit CoastDental.com/AnastasiaIsland. The practice is located in the Anastasia Plaza, 1081 AIA Beach Boulevard, and accepts more than 200 dental insurance plans. Dental emergencies can often be accommodated within one business day.
Dr. Sonam Hasija, an experienced general dentist, is the newest clinician to join the Coast Dental Anastasia Island team. She is a graduate of the New York College of Dentistry. Dr. Hasija offers comprehensive dental services for adults and children starting at age 7. Services include dental exams, cleanings, periodontal (gum) therapy, fillings, crowns, bridges, dentures, partials, professional whitening, veneers, bonding, implant restorations, extractions and root canals.
Dr. Hasija performs advanced oral cancer screening exams using Identafi® 3000, the world's first and only multispectral imaging device that can detect oral cancer in its earliest and most curable stages. Early detection is key because oral cancer is now the sixth deadliest form of cancer. Instances are on the rise, especially among people with no traditional risk factors. This group is increasingly exposed to the Human Papilloma Virus 16 (HPV-16), which has been linked to oral cancer.
Save More. Smile More.
To help patients maintain a regular schedule of dental visits, Coast Dental Anastasia Island is offering special savings for new patients without dental insurance. For a limited time, patients can receive a free exam & x-rays, a free one-year membership in Coast Dental's Smile Plus® discount dental plan, and $50 off services valued at $500 or more. Coupons can be downloaded at CoastDental.com/AnastasiaIsland. Offers expire February 28, 2011. Contact the office for additional details.
About Coast Dental
Coast Dental is the Southeast's leading provider of quality dental care with 120 affiliated dental practices in Florida and Georgia. The dentists and hygienists are employees or independent contractors of Coast Dental, P.A., Coast Florida, P.A., or Coast Dental of Georgia, P.C. Coast Dental Services Inc. is a management company that provides comprehensive, non-clinical business and administrative services to its owned and affiliated dental practices. For more information, visit CoastDental.com.
About Smile Plus
Smile Plus is a discount dental plan, not a registered insurance plan. Smile Plus members save an average of 30 to 60 percent annually on dental services. Smile Plus is accepted only at Coast Dental practices and cannot be used in combination with dental insurance or other discount dental plans. The offer for the free one-year membership expires February 28, 2011, and applies only to the first year. Patients must receive treatment at the Anastasia Island practice to be eligible for the free membership. Smile Plus memberships expire one year from the date of enrollment. Smile Plus is a registered trademark of Coast Dental Services Inc.
###